He is one of the seleção Brasileira's most skillful strikers and is highly revered in the world of football. So of course, Futbolita had to speak to one of her heroes, O Fabuloso himself, before he left for South Africa. A really relaxed dude, O Fabuloso shared everything from his pride for Brazil to his family and naturally, his thoughts on women in football!
HE may be Brazil's reigning no. 9 but Luis Fabiano – better known as 'O Fabuloso' – is coping perfectly well with the pressure.
As one of the world's most sought-after strikers today, the laidback 'mano' is only focused on one thing: bringing home the World Cup for the Selecao. The Sevilla striker steps into the coveted No. 9 jersey made famous by 'El Phenomenon' Ronaldo who led Brazil to the 2002 World Cup. Like many other footballers of his generation, Fabiano started out on the streets and worked his way up.
With Ronaldo and Romario (who wore No. 11 in 1994′s winning campaign) but distant memories, the South American nation's hopes now rest firmly on Fabiano's shoulders to fire them to a record sixth World Cup title. One would half expect the 29-year-old gunslinger to be feeling the heat but the 1.83m striker blessed with pace, a killer's instinct and a deadly right foot, is anything but.
"I do not feel any pressure wearing the No. 9 shirt for Brazil," he said.

"Yes, on one hand, I feel proud but on the other hand, I see it as a challenge to myself to live up to this important number," said the hotshot, who's fresh off a 21-goal season for Sevilla.
And like his fellow countrymen, last year's Confederations Cup Golden Shoe winner can hardly wait to don the green and yellow of Brazil in South Africa.
"Representing the Brazilian people has always been the most important thing to me," Fabiano said.
"What I like most about representing my country is to 'feel the amarelhos' (yellow in Portuguese) and green, which are always in my heart. It is an 'orgulho' (pride) for anyone to defend their country."


With the World Cup in 2014 to be played on home soil in Rio de Janeiro, there is an added incentive to defend the title at home if they can win in South Africa.
"For sure, that is the goal, but it will be far from easy! We face competition from teams like Argentina and Spain but, for Brazil, it is always an obligation to try to win the World Cup. We are the country that has won the most number of titles," Fabiano said.
He was also quick to defend Brazil coach Dunga, who's been criticized by Brazilian media for dropping fan favourite Ronaldinho as well as Adriano (Flamengo) and Alexandre Pato (AC Milan) from his squad.
"Dunga is a very calm coach and he does not like controversy and bad behaviour. He always explains the reasons for his actions and, to me, he is very disciplined. He's not too hard on us as people think," he said.
"Brazil is already strong but Dunga always wants us to work together, and show this side of our character to keep winning more matches," he added.
With Ronaldinho out of the picture and Kaka coming off a bad season with Real Madrid, Dunga may be set to unleash a new attacking force consisting of Nilmar (Villarreal), Robinho (Manchester City) and new addition, Grafite (Wolfsburg).
Fabiano said he is equally at ease with any strike partner.
"I always try to adapt to the other players, and I never choose who to play with. It will be better if my (attacking) partner has the same similar style. But for me, I can work with anyone whether (it's) Nilmar, Kaka or Robinho because we have a common understanding. I also mix well with the rest of the team," he said.
Behind every successful athlete lies a close-knit support group, and for the Sevilla marksman, it's none other than his wife, Juliana Clemente and their two daughters.
"My family always follows me wherever I play. They are there in my country (hometown of Campinas) and they always follow the games on TV," admitted Fabiano, who's prone to the occasional hot-headed outburst.

"I try to stay at home and it's hard for me to leave my family (to play away games) alone. My two daughters, Giovanna and Gabriela (2 and 5 years old) like to attend my games and sometimes, they come to the stadium to see me."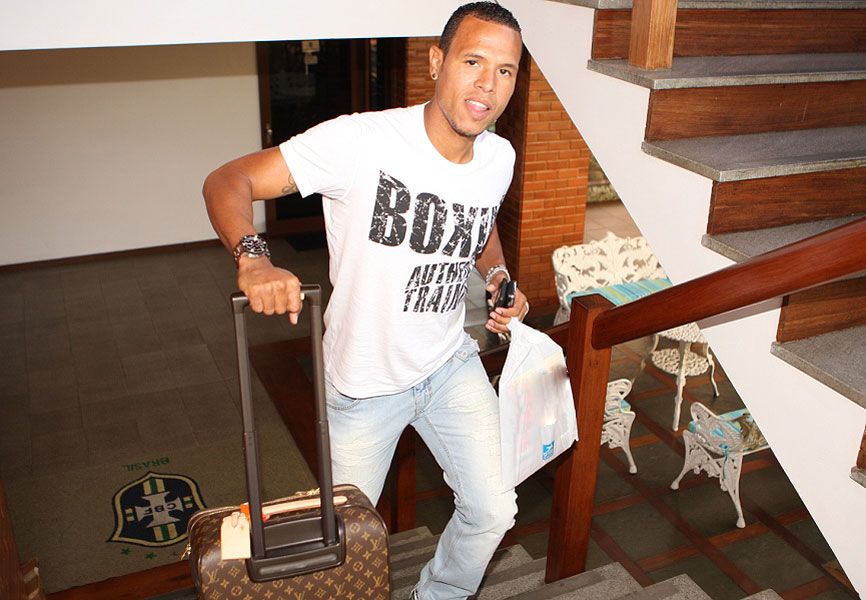 Fabiano also touched on the growth of women's football around the world.
"Football is universal, both in terms of countries and gender," he said.

"It is important that we also grow this from the women's side, in terms of professional players and the fans. In Spain, for example, there are more and more (female) football fans that I see every week."

(Originally published in The Fever Pitch blog for Yahoo! SEA)
PHOTOS VIA : AP, Reuters, R.RIBEIRO