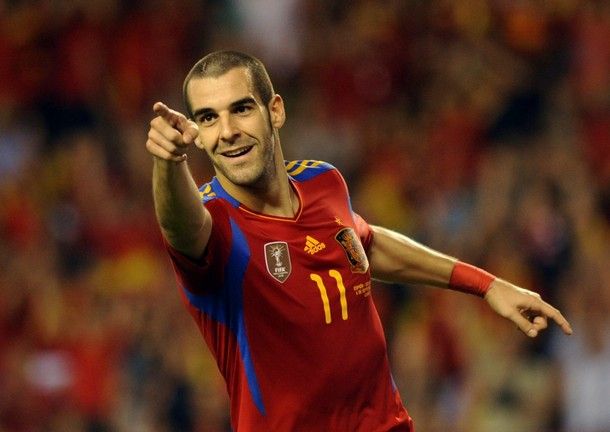 Move aside Nando Torres… it's time for Sevilla's homeboy, Alvaro Negredo, to take over La Seleccion! Yes, he has picked up a couple of Sunday Senor accolades here, and you should smear your face with black grease (ala Granada's dirty Cascamorras festival) if you've not heard of Negredo! The striker scored a double in Spain's 6-0 rout of Liechtenstein. David Villa refused to miss out on the action as well, scoring twice while Xavi and Sergio Ramos added to the tally last night. Que guay!
Meanwhile, Thiago Alcantara (seen above in his #22 jersey) who really would've qualified to play for the selecao as well (his father is Mazinho, the 1994 World Cup winner with Brasil) earned his first cap with Spain last night. Given the fact that it was a pretty 'easy' match for the Spaniards, Del Bosque thought it'd be the best time to grant the Barca kid his first cap. On why he chose to don the colours of La Furia Roja, Alcantara said :

"I arrived in Spain when I was three years old. It's where I learned to read, where I grew up. I owe everything to this country and I'm going try to repay that on the pitch."
That makes a lot of sense. Thiago's brother, Rafinha, has also played for the Spanish youth teams, most recently with Spain's U-19 side last year.