Every Wednesday, we feature some of the offbeat stories making their rounds in the football world. Today, read about the Beckhams as they prepare to move to Paris, Neymar's underwear ad & Kaka's adorable daughter!
Say what you will, but Victoria Beckham deserves a standing ovation for being able to parade in those Louboutins while she was pregnant at seven months! Geez, sistuhh – work it! One of her 'balancing techniques' actually includes holding on to Beckham's shoulders and more bizarrely, getting him to 'support' her butt. Not kidding.. it's not easy walking around in six-inch heels, hermanos!
Anyway, the point of this is to tell you that there's a very good chance the Beckhams will be moving to Paris to accommodate a mind-blowing offer he has received from PSG. Apparently, the French have offered such an exorbitant amount that it was described as "difficult to turn down." Who needs Anzhi, when you've got PSG?! (see – it even rhymes!) Plus, Victoria loves her fashion. Paris est parfait!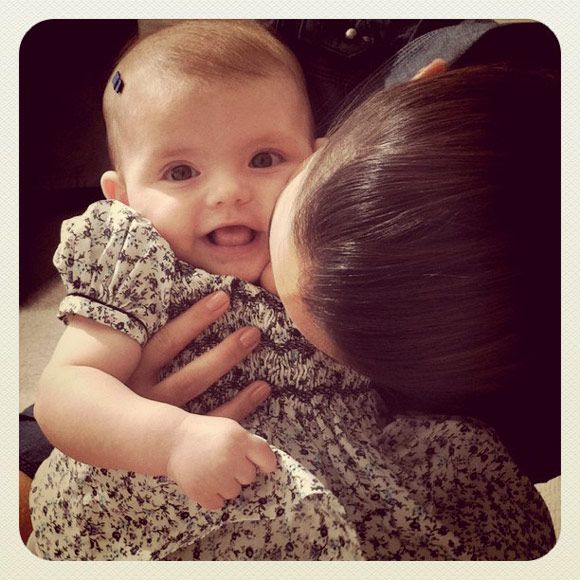 Before your ovaries explode at the sight of this adorable little ball (don't you dare try an eye- roll, guys!) above – did you notice that Isabella looks exactly like her dad? If you haven't guessed yet – the beautiful little girl above is Kaka's daughter and she is being smothered with 'beijos' from her mum, Caroline (duh). The Real Madrid midfielder posted the photo on his Twitter account last night to celebrate her six-month birthday. Hope she'll be ready to weather all those "Isabellito, your father is a damn right FILF!" remarks when she reaches college!
And here's another fetus Brazilian swag superstar, Neymar, doing his best impression of an Underwear Ad model at a photo shoot in Sao Paulo last Thursday. Also, one of our rapidly popular posts is Neymar doing his Man of the Year photoshoot, so stop all those carioca jokes at once…you know you love him!
Anyway, the campaign is for a Boxers-brand named 'Lupo' and Neymar's contract is estimated to grow to about $4 million in about two years. Ridiculous? Wait till you watch this video – it'll make your hair stand (in a bad way). POR QUE você faz essas coisas, Neymar?!!
[Photos via EgO, Kaka's Twitter & Reuters]