Obviously, the atmosphere at a derby held in such high esteem such as that of 'Derby della Madonnina' is meant to blow you off your feet. Unfortunately, besides Diego Milito's wonder strike for Inter in the 54th minute (there's no denying him, really) the game last night was .. gasp.. "noioso!" (boring)
Say what you will, but Milan should've converted those chances when they could and a draw would have been fair…perché la gente perché?!!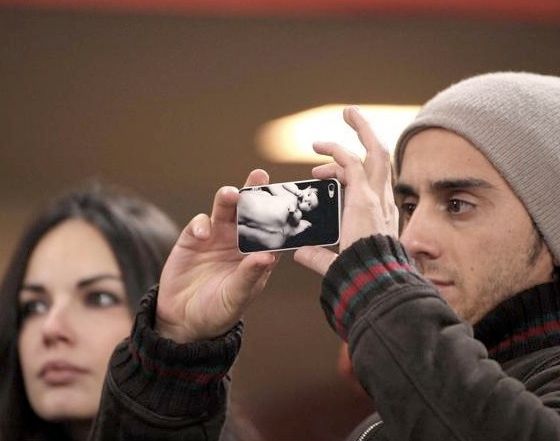 Anyway, even Alberto Aquilani knew this – he snapped photos of the Curva Sud going crazy from the VIP stands of the San Siro while his girlfriend was really thinking about hitting Milan Fashion Week (we feel you, sistuh!) And that, amicis, is a pretty interesting choice of iPhone cover by Alberto. Come to think of it, it looks like a gift from Gattuso!
Meanwhile, didn't any of the Brazilians remember to sing the legendary "Ai Seu Te Pego" during the formation of this Mid-Air Man Pile? Julio Cesar looks like he's in a lot of pain here but that isn't going to change Mano Menezes' goalkeeping line-up!
Ok, a little Michel Telo wouldn't have hurt anybody.
Photos via La Gazetta dello Sport