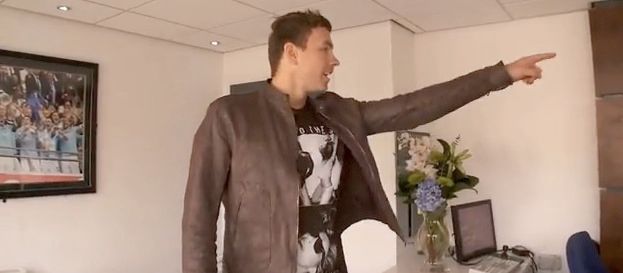 Manchester City's Edin Dzeko recently had trouble memorizing his script in front of the club's cameras, so he ordered everyone in the room to "LEAVE!" Of course, a few of City's staff members weren't aware of these arrangements, so they continued filing into the room, much to the amusement of the camera crew. Dzeko is arguably one of the cooler ones at the club – even Carlos Tevez must've shared cooking recipes with him at some point.
Meanwhile, Kun Aguero is still polishing up on his English language, while continuing to give the people around him Spanish lessons. Later, he asked his friend and language tutor what 'together' means. "Junto, si?" he asked. As Dora the Explorer would exclaim: "Thaaaaaat's right!"
The Man City institution itself is turning into an epic soap opera and it's hard not to love it. Watch both video segments here!

Meanwhile, Real Madrid's Fabio Coentrao was caught red-handed with a cigarette in his mouth at his own birthday party last weekend. This photo seems to have sparked some debate with the Spanish press going berserk at Coentrao's behaviour, particularly since he arrived from Real Zaragoza with a "Bad Boy" report card that would've made Edgar Davids impressed. "With the 30 million Real Madrid paid him, the player does not seem to convince the fans of his behaviour off the pitch," read a statement from a Madrid-based newspaper (no prizes for guessing which one).
Tranquilo guys, let the man smoke a lousy cigarette on his birthday party – Mesut Ozil did it last year on a yacht and spent the next six months defending it. Even Ronaldo, a self-professed non-smoker, was amused at the very fact they were snapping this photo, which says a lot – he never cares about the paparazzi at all!
(Photo credit : Ronaldoweb.net, MCFC)