Welcome to Offbeat Wednesday, our Weekly Special on the Lighter Side of the Game! This week, read about Iker Muniain's Comparison to Bart Simpson, Leo Messi's Baby Rumours, The Rooneys' Las Vegas Holiday, Irina Shayk and Park Ji Sung!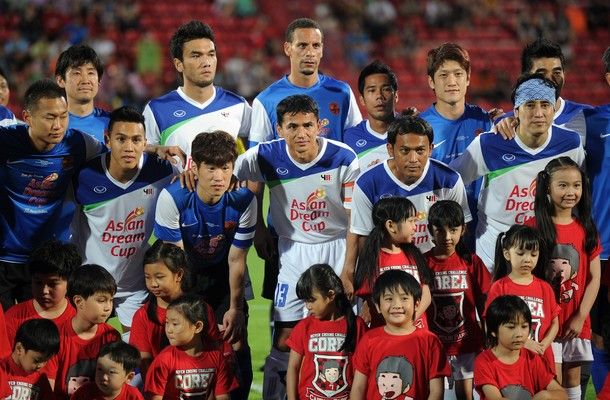 Man United's Park Ji-Sung and Rio Ferdinand (who'll now have a pretty enjoyable, 'England-free' summer, no thanks to Roy Hodgson) were both in Thailand today to play a charity match called the 'Asian Dream Cup 2012′, in aid of Ji-Sung's foundation. The South Korean star was gifted a garland upon his arrival in Bangkok and was clearly overwhelmed by all the support he received. Well, you know how much the Thais love their football. To add to that, their hospitality is outstanding!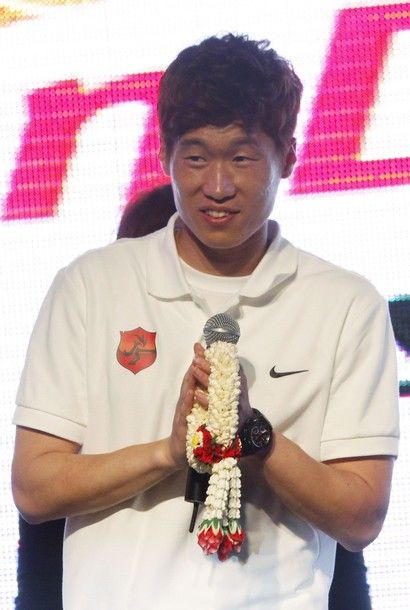 Meanwhile, Ronaldo has spoken out about his former teammate's England snub – a rightful thing to do, especially if you've played alongside the man and know his character. 
"Maybe the coach has justifications and we have to respect those. But I have to be honest, I love Rio. He's a great player, great man and he should be in the national team because he would help England do well… maybe to win the tournament,' Ronaldo said, according to quotes attributed in 'The Sun'.
Athletic Bilbao are set to face Barcelona in the Copa del Rey final next Wednesday, and what better way to count down to this momentous occasion than by getting winger Iker Muniain to pose with a photo of his 'twin', Bart Simpson, at the Bilbao training ground? We all need some creativity in football, and the Catalan press have kicked it off by coining the nickname 'Bart Muniain' for the 19-year-old!
The truth is Muniain is a funny kid and you could probably ask him to do cartwheels for the camera. Interestingly, the one thing he's looking forward to next week – besides the match itself – is being reunited with his old friend at Barca, Thiago Alcantara. Both of them represented Spain at youth levels and played together at various tournaments.
"(Thiago) is super fun guy – he'll make your day and changes the 'vibes' (within)of the dressing room. He is a lad I always see with a smile, always playful from head to toe. He is unique, the kind you want on any team," said Muniain.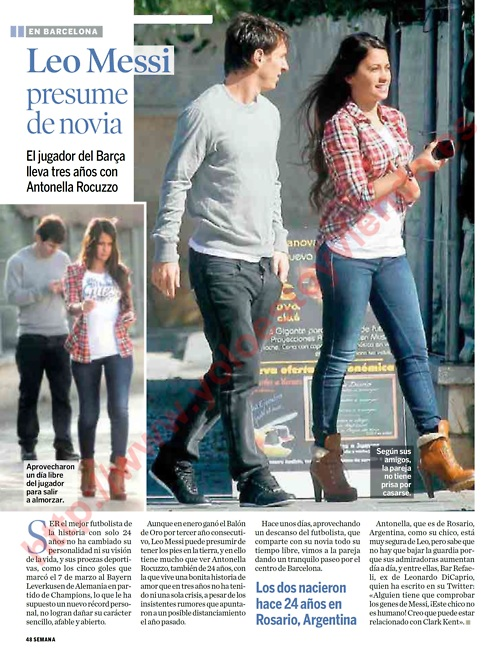 Football's own alien, Leo Messi and his girlfriend, Antonella Rocuzzo, are said to be expecting their first child – a baby boy – early next year. However, the couple, who have been together for four years, have neither confirmed or denied the reports that emerged a few weeks ago. Messi is notoriously private about his personal life, particularly since the Spanish and European paparazzi in general can be rather merciless.
If this were true, there's no need for Messi to plan his child's future at all – Barca have got it all figured out! An all-expense paid childhood, his first boot endorsement  the moment he leaves his mother's womb and a welcome kiss from Maradona. Anything, just as long as the boy ends up playing for the Blaugranas in the 'el clasico' scheduled in the year 2025. Ronaldo Junior (Real Madrid) is waiting for his nemesis!
In case you were wondering, that's not a 15-year-old boy who forgot to dress up for a pool party. It's Wayne Rooney in Las Vegas with his wife, Coleen! The couple and their families are enjoying the striker's temporary time off from football before he returns to join England's Euro 2012 training camp next week. Wayne has been spotted everywhere from nightclubs to casino slot machines in Vegas – formerly known as the 'party capital' of the world (it so isn't!)
Irina Shayk stepped onto the red carpet of the Cannes Film Festival last night in an elegant dress, but her beau, Ronaldo, who is currently in training camp with Portugal was unable to join her. Instead, Irina was joined by jewellery maker, Fawaz Gruosi, a 60-year old man who is said to be 'dating' Tara Reid. Gross! Ronaldo should've totally turned up, snapped his fingers and yelled : "Ficar longe da minha namorada, avô!"
Anyway, Irina looked stunning – as usual – but we're starting to think that she needs to do more than just red carpets and parties. How about some substance?!
via Hola, Sport.Es, Film Magic