The Portuguese team set off on a bizarre "parade" all around Lisbon yesterday to mark their final training session before official preparations for the tournament begin. However, in the spotlight again is on our old friend, Cristiano Ronaldo, who apparently snubbed a group of waiting fans outside a restaurant after dinner on Wednesday. The supporters began to insult the player while chanting "Leo Messi! Leo Messi!" in retaliation but Cristiano paid no heed and quickly got into a car with his bodyguards.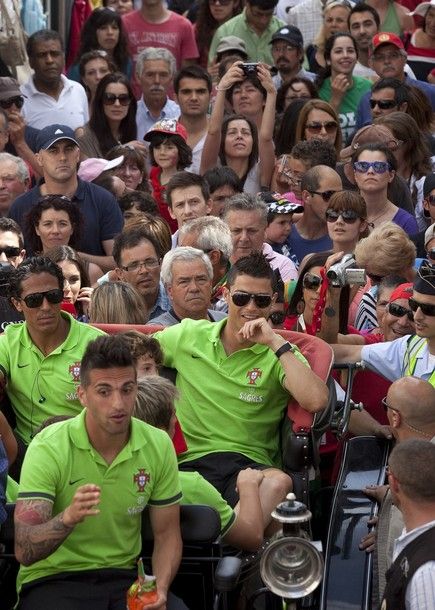 Yesterday, local newspaper 'Record' published a letter from a parent who complained that the Real Madrid star was arrogant and "refused to sign on his daughter's Barcelona jersey." Given the fact that Iker Casillas happily signed a Barca jersey a few months ago, it does seem a little unreasonable. However, Gonzalo Higuain once said that Ronaldo had "a lot of trouble" coping with the number of autograph and photo requests he receives daily ("everybody wants one," said Gonzalo) and it's certainly true. As such, his policy is to sign for all or none of the fans. It's a fair deal, but um sorriso, talvez, Cristiano?
Luckily, Ronaldo's teammates Coentrao and Meireles have cemented their positions as the 'PR' guys of the Portugal squad, attending to fans and making sure they're happy. So far, no one has thrown a cigarette butt at Fabio – so that's a good sign!
Photos via Gettyimages