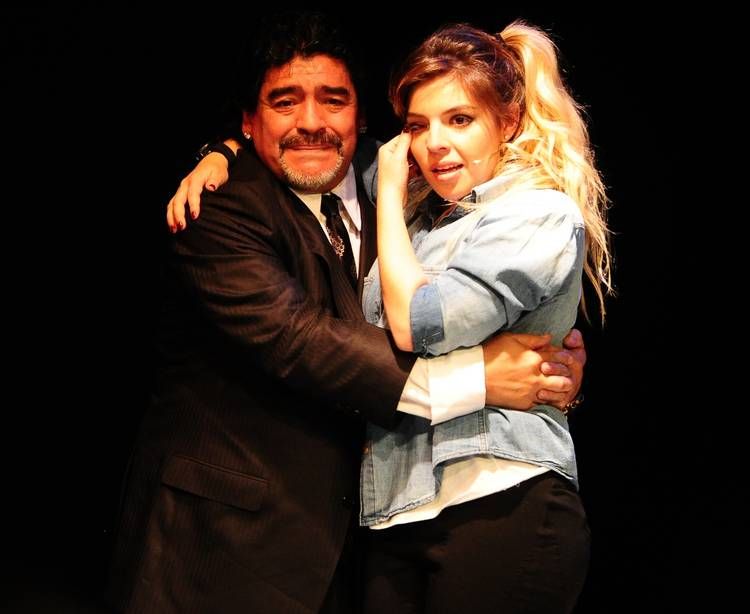 There are so many things you can do as the daughter of one of the greatest players to exist – Maradona. Of course, you could become a footballer too, marry one (just like Giannina!) or simply make a wonderful film about his football career on Father's Day. Dalma, the older of the two Maradona sisters, did just that yesterday at the launch of her autobiographical show in dedication to her father. The film, entitled "Hija de Dios" (Daughter of God) explores the personal feelings of being a daughter to one of the best football players.
Maradona, who was visibly overcome with emotion, went up to stage to embrace his daughter after the film. "It's the best Father's Day gift," he declared, before jokingly adding : "She's a f**king actress!"
"I was absent around Dalma and that's what Claudia (his ex-wife) said to me. I had very hard times, with a tough disease (drugs), and in those moments, Dalma, I was afraid. For Gianina, (I was present). But when Dalma stood at the door, I wanted to swallow the Earth. You (Dalma) are my blood, you are my life." – Maradona
On a more amusing note, Maradona then told the Argentinean press that his daughter was "single and lovable" and invited them to start chasing her. Dalma refused and said : "No, please, I do not want guards at my house!"
Of course, everyone's favourite Argentinean football family, Gianina, Kun Aguero and Benjie Aguero were present at the launch of the film at the Sha theatre in Buenos Aires. Benjie is shaping up to be a mini Argentinean rock star with his get-up and we're pretty sure Man City's youth teams will be on his tail very soon!
(Photos via Clarin Argentina)