Italian and English Futbolitas Verdiana and Laura share their thoughts and predictions before tonight's Euro 2012 Quarterfinal encounter between England and France!
HOME SUPPORT 
ITALIAN FUTBOLITA VERDIANA : "Italian people are very excited about the Euro 2012. We want to do better than 2 years ago in South Africa but honestly, there have only been a few Italy supporters who travelled to Ukraine and Poland because of the economic crisis in our country. So we will support our team from home! " 

"I like this Italian squad because it is full of young talented players. 2 years ago we were angry because Lippi brought most of the players who played in Germany 2006 and they were too old to continue to play. Now, Prandelli has chosen a fresh team – it's a mix of experience and something new.

LAURA:  "The mood here has been great. English people are very critical of their own country and they have a sarcastic type of humour that makes you think they don't take anything seriously. But at the end of the day they are very passionate when it comes down to it- we were all cheering along and the pub went mad when Rooney scored."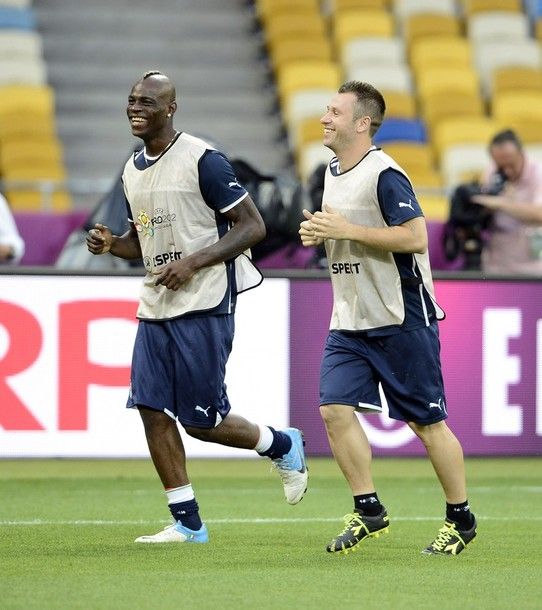 THE 'FUTBOLITOS' WHO WILL MAKE AN IMPACT

VERDIANA: "Cassano is the player who plays well and I say he'll (make an impact) because last season was very difficult for him. He had a near-death experience with his heart attack and everybody thought that he won't come back to play anymore. Cassano was stronger than his destiny, he worked hard to come back and now he plays again and scores: for him this is a victory! Players like Balotelli and Thiago Motta can do better. Balotelli is famous for his sometimes bad behaviour but he's a good guy and he's very talented, the real star of Italian squad.

LAURA:  "Gerrard has been very consistent and he has set up three of the five goals England has scored. He has the most assists of the Euro along with David Silva, he is playing better now than how he was playing for Liverpool this season. Rooney too, as he has always been very a ambitious player. He will knock the Italian defence down. He's way too fast for them. As for Italy, I will have to say Ballotelli. He is a quality player, fast and very strong and he knows and understands English football very well."
ON THE OPPONENT
VERDIANA : "We aren't afraid of England. I have watched all their matches and they don't seem to be that  irresistible….the 2 squads are on the same level like others in the tournament. The English press is happy because they think they will make it through, we are understimated but we'll see….the only team that is superior than the others is Germany: they are the real candidate to win the trophy."

ON ENGLAND HAVING THE 'BEST DEFENSE"
VERDIANA : "If you want to learn the real defence you have to watch the Italian championship. Italy conceded only 2 gol: 1 against Spain and 1 against Croatia while England conceded 3 goals or 4 (if we want to consider the regular goals from Ukraine) so we are better than England"
 PREDICTIONS
VERDIANA : Prandelli is a good coach but I don't understand sometimes his tactical decisions like Thiago Motta behind the 2 forwards or De Rossi in defence, I would choose Nocerino despites of Thiago Motta – but Italy will win!




LAURA: England will win by a 2-1 scoreline. It is going to be a tight game.