Andres Iniesta married his long-time partner – and mother of his daughter, Valeria – Anna Ortiz yesterday in a relatively 'Barca' studded affair at the Tamarit Castle, a lovely tucked away venue he had booked months in advance. Felicitats!
Guests poured in to celebrate the phenomenal player's big day with him and Gerard Pique, who drove into the venue which was surrounded by fences, couldn't help but compare the spectacle of cheering fans to the "Tour de France"
The ceremony was held in the castle gardens and Iniesta was escorted into the venue by his dear mother as the theme song from 'Gladiator' (his favourite film) played out in the background. A few minutes later, Anna, accompanied by her dress designer, Teresa Helbig, walked in to the tune of the late Whitney Houston's "I will always love you" from the 'Bodyguard' film. Anna opted for the vintage look complete with her Amelia Earhart inspired headwear.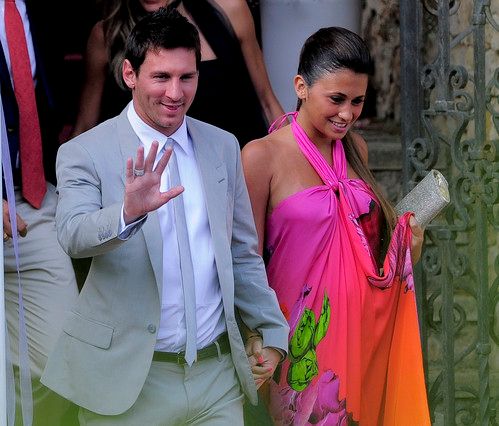 Wedding guests included many of Iniesta's club teammates including Leo Messi (seen here with his four-month pregnant girlfriend Antonella in a lovely pink maxi dress!), Victor Valdes and partner Yolanda, Gerard Pique (alone, as Shakira is now recording her new song in Portugal) , Cesc Fabregas and the stunning Daniella Semaan, Pedro and his girlfriend, Puyol and Gabi Milito. One of the first guests to arrive at the Tamarit Castle was Iniesta's best friend, Xavi. Emotional!
Pep Guardiola did not attend the wedding ceremony but joined the banquet at the Mas d'en Ros restaurant with his wife afterwards, where he obviously offered a toast to the new couple.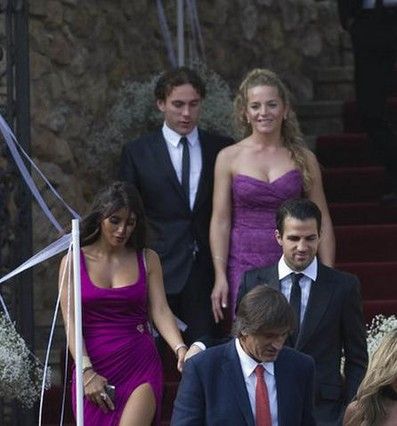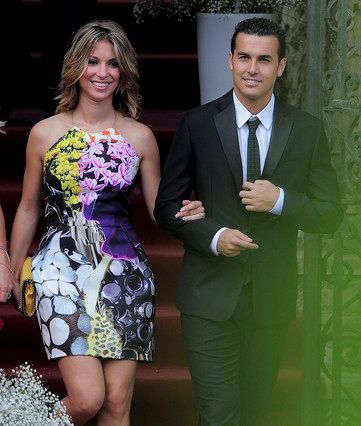 So what's it going to be next, Andres – the Ballon d' Or?!
Photos via Hola!