Welcome to Offbeat Wednesday, where it's all about the Wacky World of the Baller and their Wags! This week, read about Irina Shayk's reunion with her grandmother, Ronaldo and Nani's cheating allegations, Andy Carroll's cute dinner date, Alex Song's extended family and Kaka and Caroline's eternal love (for the millionth time).
Cristiano Ronaldo's fiancee, Irina Shayk, has been spending her holidays in her hometown of Cheliabinsk located in the remote area of the Baskortostán Republic with her beloved grandmother.
In recent days, Portuguese tabloids have linked the star to a nasty cheating scandal involving actress Rita Pereira, whom Ronaldo was said to have been spotted getting frisky with at his 'Seven' nightclub in Vilamoura, Portugal, after last week's friendly against Panama. According to several witnesses, Ronaldo and Rita were said to have been "intimate" at the club. As the owner, isn't it a requirement to be friendly to everyone if you've invited them to your club? Plus, Irina is totally in a league of her own!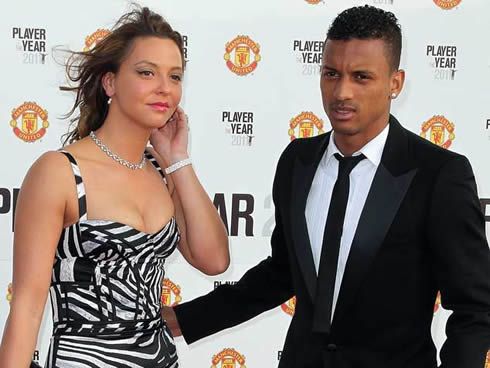 Unfortunately, Ronaldo's Portuguese teammate, Nani, also had to refute claims this week that he was in the same nightclub cheating on his furious girlfriend, Daniela Martins (above).
According to Correo da Manha, the conversation between Rita and Nani at the nightclub provoked such a "serious crisis" in the family that it led to a serious misunderstanding and a fight between the couple. However, the midfielder was quick to dispel rumours via an official statement.
"More than once, news has been reported that do not correspond to facts, and this time it happened in own country. I can happily assure you that all is well and that I had no problems on Wednesday." – Nani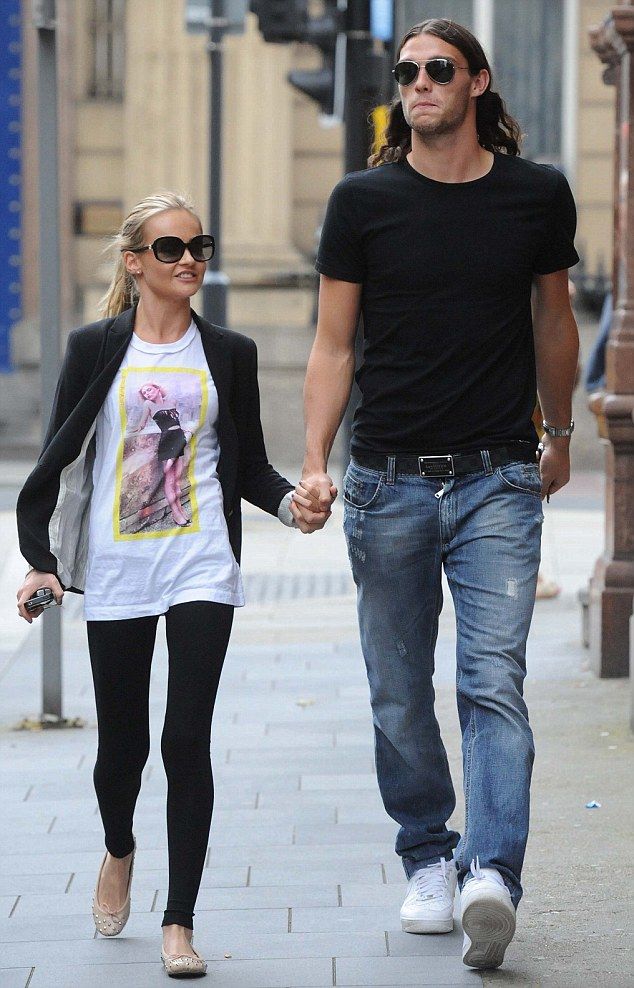 Out of favour Liverpool striker, Andy Carroll, was spotted heading to dinner at an Italian restaurant with his girlfriend, Stacey Miller yesterday. And really, who said anything about height differences?!
According to The Mirror, Carroll has been ordered to leave Liverpool by this week – and sign for another club- or risk staying on the bench, where he has been generally left out of Brendan Rodgers' plans this season. The 6ft 3in striker has snubbed West Ham Aston Villa and Fulham and is hoping for Newcastle to sign him before deadline day next week, although they've been reluctant to meet his £90,000-a-week wages.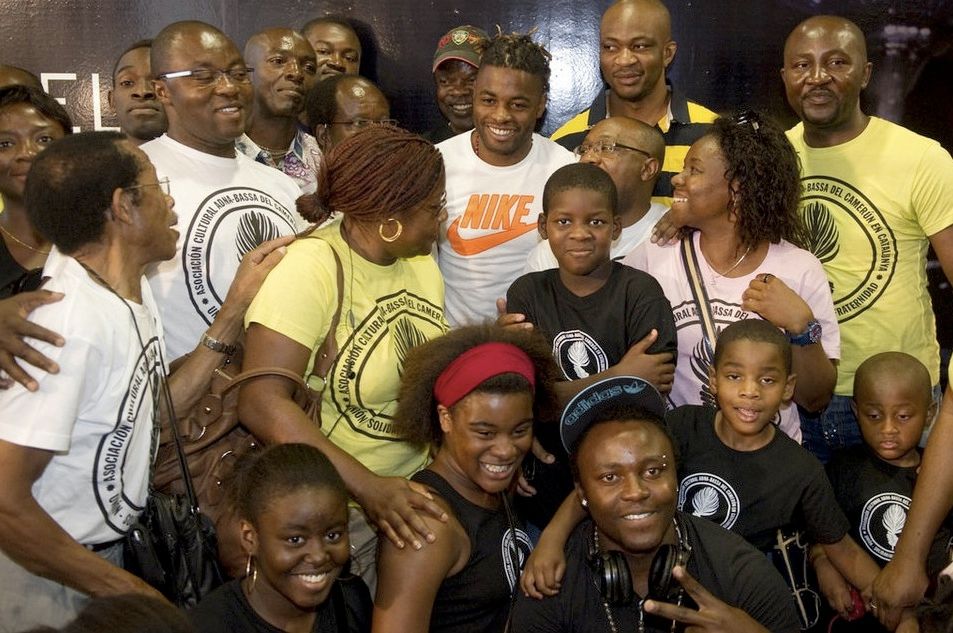 Yes, you're looking at Alex Song's extended family and fans – all 30 of them (and there's more!) – who attended his official Barcelona presentation on Tuesday. The Cameroonian Douala fans arrived to welcome their fellow countryman and member of the Bassa, one of the more prominent tribes out of the 289 in Cameroon, with half a million people. "(Bassa) is pronounced Barca – it was his destiny!" said Emmanuel Achille Mbei from the Cultural Association of Adna-Bassa (Cameroon) in Catalunya.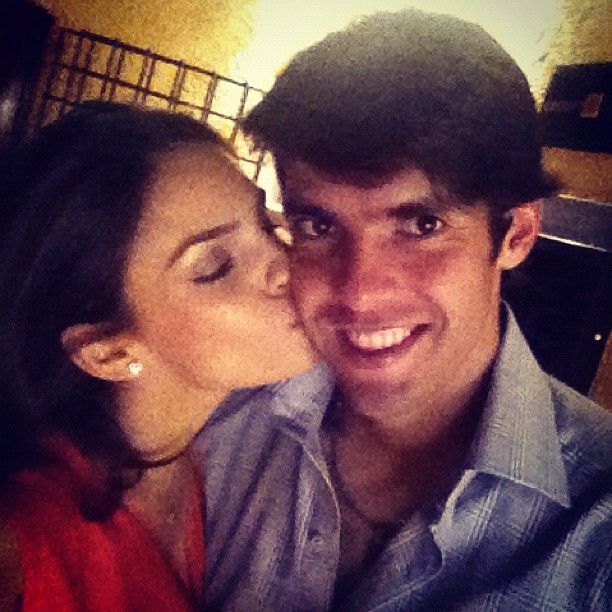 And here's Caroline and Kaka in another one of their sweet photos (awww!) The Brazilian midfielder has been linked to an outrageous one-year loan to Manchester United, presumably due to the fact that they can afford his wages while AC Milan isn't willing to break the bank for a player who has been a shadow of himself at Real Madrid.
However, new reports in the Italian press say that Berlusconi has asked Milan's vice-president Adriano Galliani to make "one final bid for Kaka", this week although they are more interested in a season-long loan deal as opposed to a transfer per se.