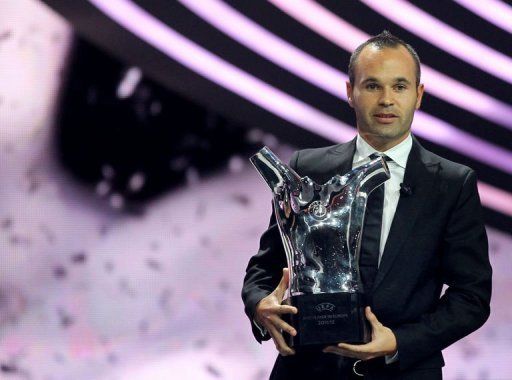 As expected, Andres Iniesta picked up the Best European Player of the Season award last night, which looks like a silver carving of the 'Rock On!' hand symbol – apart from the obvious lack of fingers. If Michel Platini had something to do with the design of the award (highly unlikely), he did a terrible job ("But when does he not?!" you cleverly say)
Away from the hideous award, let's not forget the fact that Iniesta's performances for Spain and Barcelona this year does indeed deserve the highest praise. Although he had been overshadowed by Messi's dazzling form in recent years, he picked up this grand accolade at the UEFA gala in Monaco after receiving 19 votes, most of which were on account of his impressive form for La Furia Roja at Poland/Ukraine. Messi and Ronaldo were also both tied at 17 votes each – which explains the awkward photo below!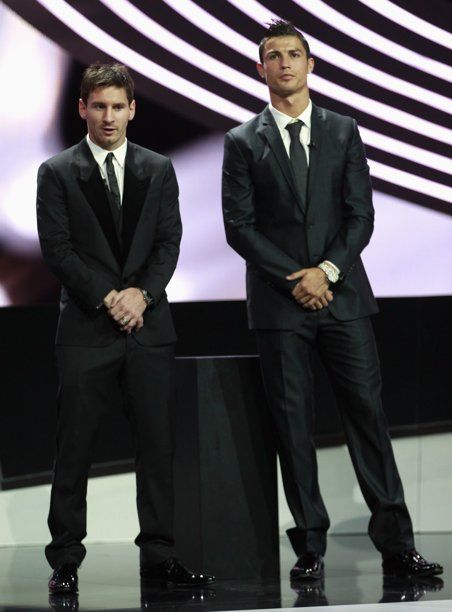 Messi side-eying Ronaldo is the most epic expression of the week – because really, he was dying to say :"how many times do we need to meet within 48 hours?!" (they just played against each other in the Spanish Supercup last night)
The fact that overexcited editors tend to incessantly compare these two to one another would make it particularly difficult for Messi or Ronaldo to even frequent the same restroom in Monaco together. Imagine the awkwardness that would lead to a scenario such as this :
Leo : "Nice goal last night, Cristiano."
Cristiano : "You too I guess, but I played better' cause we won.

"




Leo: "Cool…"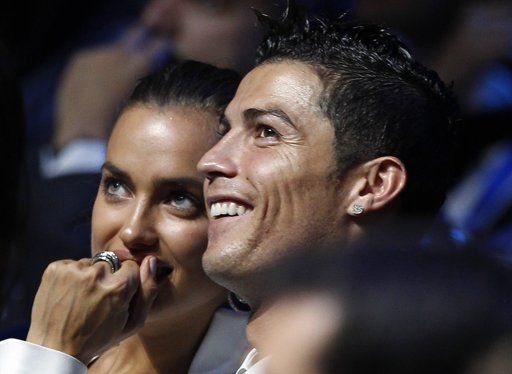 Irina Shayk also joined Ronaldo at the gala (the cheating allegations from actresses can now stop, if you will!) as his date to the event. In her typical style, Irina spotted something funny on stage – unbuttoned pants, perhaps? – and immediately whispered what she had seen into Ronaldo's ear, who broke into peals of laughter afterwards.