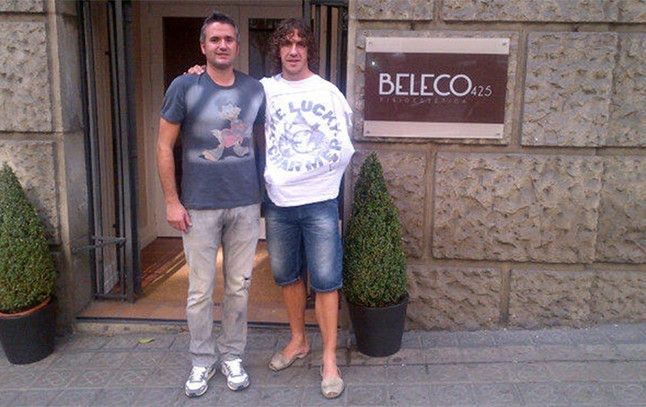 Good news for fans of defensive stalwart Puyol – he's expected to be back in action for Barcelona in five weeks time. Puyol, who suffered a dislocated elbow last week, has been working closely with doctors and lucky for him, has the help of some of the most advanced rehabilitation techniques around to cut his recovery time which was initially said to be eight weeks.
In the meantime, he has been spotted around the country enjoying the 'good life', eating out with friends and having a laugh. Tito Vilanova recently said that part of Puyol's success as an individual is his ability to remain positive with a great mindset. Despite his setbacks, Vilanova said Puyol maintained a "positive attitude from the moment he boarded the flight back to Barcelona."
It definitely helps to be around individuals like David Villa, then!
Model Melissa Satta, who is dating AC Milan's Kevin-Prince Boateng was spotted at Sunday's Milan derby, which Inter won 1-0, along with a bevy of Italian WAGS and celebrities. Naturally, Inter's "guest of honour" Mario Balotelli also arrived at the San Siro to observe the proceedings.
Despite Milan dominating the game and creating more chances, Inter clung on to their third minute header from Walter Samuel. Best of all, they were ten men down in the second half. It was a generally bad-tempered game but well done to Inter!
Photos via Correire dello Sport