Welcome to Offbeat Wednesday, where it's all about the juicy footie gossip. This week, read about Iker Casillas and Sara Carbonero's Halloween, Puyol's rumoured new girlfriend, Balotelli's Christmas Baby and Cristiano Ronaldo's desire for more sons.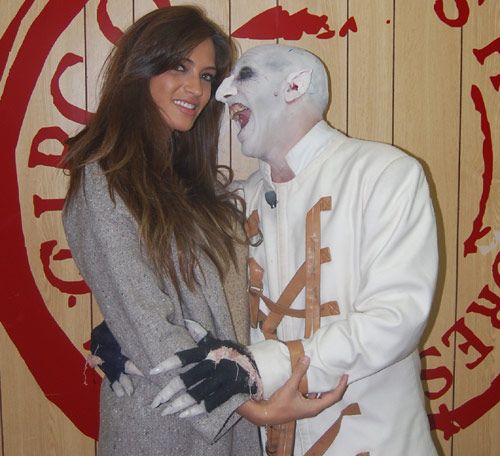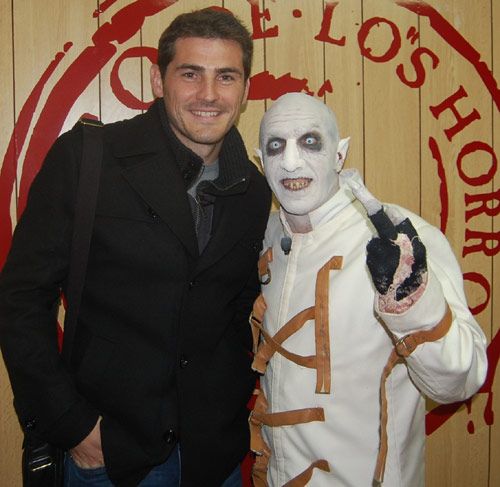 It appears that Madrid SuperCouple Sara Carbonero and Iker Casillas enjoyed a little Halloween fiesta of their own, despite not dressing up for the occasion last week. The Real Madrid keeper and Sara visited "Manicomio del Circo de los Horrores", a scary cabaret-like theatre with a horror theme in Madrid.
The couple also posed for photos with Nosferatu, the Uncle Fester lookalike from the 1922 German horror film of the same name, which was an expressionist remake of Bram Stoker's 'Dracula'. Why doesn't anybody dress up as Nosferatu anymore? He's bloody brilliant and all you need to pull off the look is white paint and eyeliner! Be careful though, he's likely to bite you if you're a woman (and maybe Sara!)
There's a story in the English papers today that Mario Balotelli will not be taking the customary two-week paternity leave to witness the birth of his baby boy, who is due on Christmas Day (wow!) Of course, Balotelli's girlfriend, Rafaella Fico, is believed to be giving birth in the traditional Italian sense – at home and with family and for that, he'd have to miss City's matches against Stoke, Sunderland and Norwich. Uhhh, just let him head home then?
To add to the absurdity of the situation, the paparazzi also got Man City to check with the club's Human Resources Department to confirm if he had indeed applied for leave this morning and the club swiftly denied it. So this means that for now, Balotelli will be playing during the Christmas break and other reports has suggested that he got into a bit of argument with Mancini, who had denied him the two-week break. Chill out guys, there's eight weeks to go and we all know of Mario's type at work – he's the type to apply for leave a good ONE hour before leaving!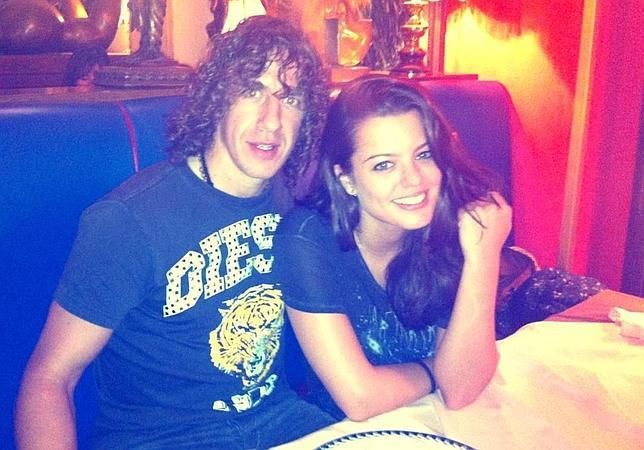 According to the Catalan gossip pages, Barcelona captain Carles Puyol has found a new girlfriend and she's local actress Adriana Torrebejano! Actually, Adriana reminds us of his ex-girlfriend, model Malena Costa. They look ah-mazing together, so naturally everyone assumes they're dating!
Anyway, Adriana is a TV-drama actress and was already spotted partying in Madrid with Puyol last June during the summer break. The photos were promptly published in 'Cuore' magazine.

In a recent interview with France Football magazine, Cristiano Ronaldo spoke about his son, the adorable Ronaldo Junior. "For now, what I want is to be a good father to my 2-year-old son," he said proudly.
The Real Madrid attacker added that he also wants "one or two more children" in the future, but "that will depend on many things". Ah, factors such as whether Irina Shayk is willing to share her Supermodel genes to create the gorgeous baby your ovaries have all been waiting for. What else can you say, really, but "Dayuuum?!"
Photos : La Presse, Abril, Hola! y Twitter