Unfortunately for AC Milan, their miserable form in the Serie A continued after a 3-1 loss to Fiorentina in the San Siro this afternoon. It's a "tragedia" in every sense of the word – they've now slipped to 11th position in the league table which is utterly embarrassing, given the fact that former player Alberto Aquilani struck the opening goal and Alexandre Pato missed a penalty.
How is the second one even possible (ah, of course it is?) Well, when your girlfriend – who also happens to be Silvio Berlusconi's daughter – is watching from the stands, it's a lot easier to get cold feet! It's tragic how Pato's initial form has failed to surface for Milan in recent months and if it does, it's more of a spark than anything else. Bring back the 2007 version of the Brazilian, freshly shipped from Internacional!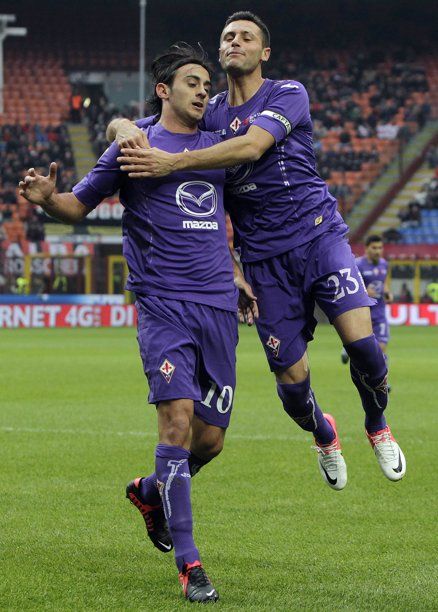 Meanwhile, it appears that Pippo Inzaghi's presence has been sorely missed as the Rossoneri continuously failed to time their attacking runs with precision and were regularly called offside in the first half. If Pippo – the King of Offside Traps – were there, he'd have probably made it 3-3. Ah, wishful thinking, Rossoneri fans!
As expected, Allegri is facing the brunt of the criticism for the loss and was (not surprisingly) blunt in his post-match comments.
"Pato did well on Tuesday, so I thought he would grow and improve by playing more. The problem is that our style of football needs us to run at full speed, and playing every three days, we cannot do that. Sometimes we have to play badly and try to get a result anyway. We ought to avoid the slips in concentration. It's a shame about the results, as we could have gone up to sixth place today and did not manage it." – Allegri
Meanwhile, the fiery Derby della Capitale between Lazio and Roma (their 139th meeting!) ended in Lazio's favour with goals from Miroslav Klose and Stefano Mauri.
The heated encounter saw Daniele De Rossi being shown a straight red card in first half for swinging his arm into Mauri's face. The Lazio captain joined him in the stands five minutes from the end after a second booking, but not before scoring in the 46th minute.
Just so you know, Rome will be painted blue for today… just for today!