Admit it, Lionel Messi's baby thumb-sucking celebrations were just a MATTER OF TIME! The Argentinean ace (and father to newborn Thiago) scored twice in Barca's 4-2 win over Mallorca last night. Cristian Tello and Xavi Hernandez netted the other two goals.
After the match, Gerard Pique – who returned to first-team action after six league games – beamed on the pitch and said : "I felt great physically, I was very comfortable on the pitch," Pique said. "In general, we played well and we were the superior side, even though the opening 15 minutes were difficult."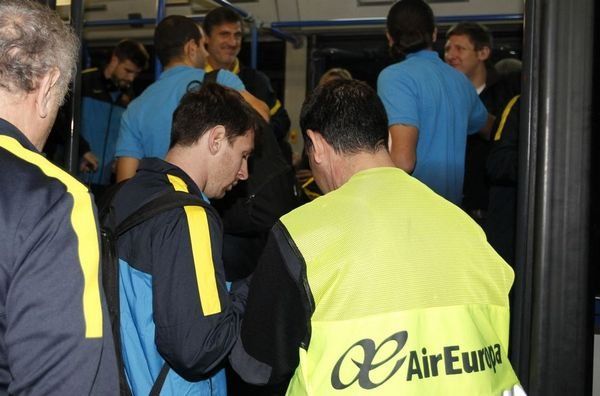 As expected, Barca's arrival in Palma involved the Great Airport Staff intrusion (again) in Palma and Leo Messi was on the receiving end of the most affection. The best part about travelling as a team is the idea of "going everywhere" together – up the plane, the bus, through immigration. It's like a huge excursion whether you like it or not!
Meanwhile, Ronaldo (seen here with his best friend and Third Musketeer, Pepe) suffered a bloody eye during Real Madrid's 2-1 La Liga win at Levante yesterday, after being struck by David Navarro's elbow. According to Jose Mourinho, he will undergo tests at a Madrid hospital later today to determine how serious it is ahead of Portugal's friendly against Gabon later this week.
Bloody eye? What bloody eye? Naturally, in typical Cristiano style, he went on to score in the 21st minute!