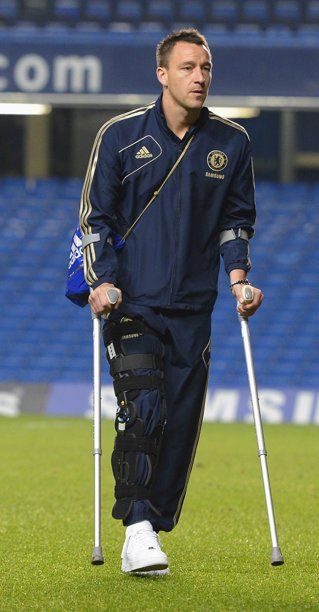 John Terry took a meaningful look at Stamford Bridge for one last time last night (oh, we're being dramatic although you must admit that the Valencia transfer news a week ago was quite amusing!) after a relatively serious knee injury he picked up during Chelsea's 1-1 draw with Liverpool.
Now that he's retired from the England national team, you can probably catch Terry doing a bit of Christmas shopping around Chelsea this week – the bloke's got plenty of free time on his hands! Meanwhile, the club's medical department will make their assessment of his injury during a scan today.
"We have to wait to tomorrow to understand the extent of the injury. It was great to see him lead the team out there, we just have to hope its not a serious injury we have to see him back soon. He's in pain now but we hope it's not serious. He will go to hospital tomorrow to have a scan. It's a real shame he had to come off. He was playing really well." – Di Matteo.
And as we told you on Saturday, Luis Suarez would've been the only man capable of springing a comeback for Liverpool, after John Terry's opening goal in the 20th minute.
The Uruguayan 'crack' scored his eighth goal in the Premiership and extended Liverpool's unbeaten run in the league to six matches. Genius!


Meanwhile, Edin Dzeko's goal gifted Manchester City a 2-1 victory over Spurs last night (a pity – they were actually holding on to that one point). Of course, Dzeko did it "Chicharito style" and came off the bench again to steal a win for City, but he's not going to hold out any longer if Mancini doesn't appreciate him enough to start him! If the rumours are true that the Bosnian is indeed going to Arsenal in January, surely he'd have to work on his own feelings towards the Gunners?
'Again from a free-kick we conceded a goal as stupid as against Arsenal,' he said. We have to improve there. But after goal we were the better team for the 90 minutes and in the end we deserved it. Even when we are losing we come back. I hope next time we winning 1-0 and then go on and win the game. This is much harder to play.' – Dzeko
Wenger is apparently in the market for three players: a keeper, a wide attacking player and a central striker, and according to the English papers from this morning, Dzeko is the shock contender to become Arsenal's centre forward. Henceforth, the words 'stupid' should be replaced with 'great', 'talented' and 'a dream' and Dzeko may just be ahead of Olivier Giroud in the pecking order next year!