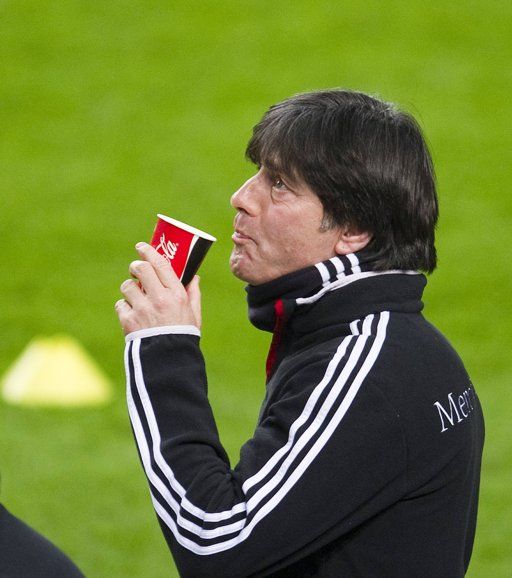 With all the talk surrounding tonight's international "friendly" between Netherlands and Germany, Joachim Low badly needed a drink and decided to take one right there on the pitch during training yesterday!
The match, which is scheduled to take place in Amsterdam later tonight, will not feature many of Germany's "stars" including Mesut Ozil, Miroslav Klose, Bastian Schweinsteiger, Marcel Schmelzer, Jerome Boateng and Toni Kroos. Due to the fact that it's an international friendly – and not a Euro or World Cup qualifier – the clubs have a bigger say in keeping their players for 'crunch week'.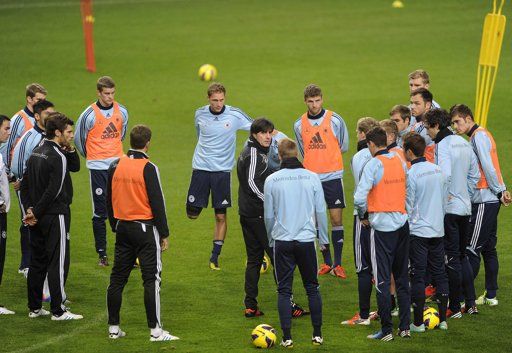 According to Arjen Robben, nobody will be throwing pitchforks on the pitch tonight and that the Dutch still love the Germans despite what happened at Euro 2012 (Germany won 2-1) and the general animosity between both nations. Umm, good effort at trying to be the United Nations!
"The atmosphere between the two countries is now more relaxed. It will be a nice game. For us it is also a really good test to see where we are at the moment. The game against Germany is for us probably more important than the World Cup qualifiers.

Germany is a world-class opponent – they are not Estonia or Hungary. We must make the best of it but Germany are currently one or two levels above us. We are under construction at the moment but still have a good team." – Arjen Robben