Just a quick update : We've been travelling a lot, so the posting schedule on the site has been a little crazy Nevertheless, fear not! The North London derby takes place this afternoon and despite Olivier Giroud's bottle throwing capabilities, Arsenal's past record isn't looking too good. The Gunners have won just two of the last eight Premier League games against Spurs (W2 D3 L3).
Giroud himself is suffering from a bit of hamstring and calf problem while winger Theo Walcott, has a bit of a (giggle), problem with his  buttock muscles. Mikel Arteta and Bacary Sagna are also both facing injury concerns ahead of the clash. On the other side of the spectrum, Spurs' coach, Andre-Villas Boas, is looking to take advantage of those injuries.

"We have to (finish above Arsenal). It is possible to bridge the gap. We are looking at trying to shorten the gap and not letting it grow. To play for fourth spot is difficult bearing in mind the competition you have to overcome. It's possible to bridge it. Arsenal have won trophies in recent times and they have qualified for the Champions League more often. That is where we want to be in the future. We're getting nearer."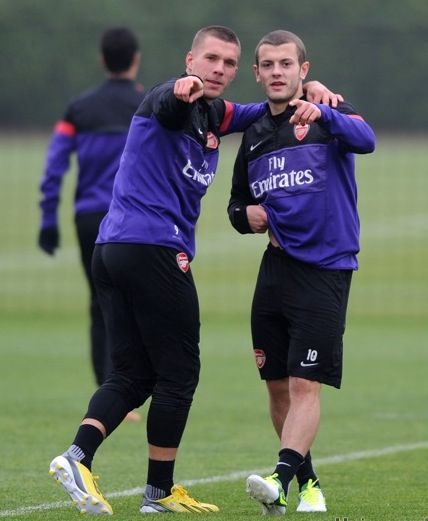 And of course, here's a candid of Lukas Podolski (with a cheery Jack Wilshere) doing what he does best – pointing at the camera!