Javi Garcia and Mario Balotelli had a bit of a tickling match during this afternoon's Champions League training session. Might as well, since they can't be doing this against Real Madrid tomorrow! Or can they?
As it stands, Borussia Dortmund is currently leading the Group of DDDeath (literally) with eight points. As Manchester City have been left at the bottom of the table with two points, they must win the match to avoid instant elimination. The type of questions posed to Mancini at yesterday's press conference, however, does not seem to demonstrate this.
"Mario, outside the pitch, is a fantastic guy. Sometimes he doesn't understand which is your job, and how his job is important for his life, but I hope for him that he can understand this quickly. Now he is 22 but life can go quickly and I hope he can improve everything because as a player he could be like Cristiano and Messi, if he understands that to be like this you should work hard, your mind should be always on your job, not on the other things that are not important. I am very sorry for him for this." – Mancini
Is Balotelli all everyone cares about this days? (Answer : Yes, we're afraid so) Seriously, why doesn't anybody bother with stuff like Carlos Tevez's secret Christmas wishlist anymore?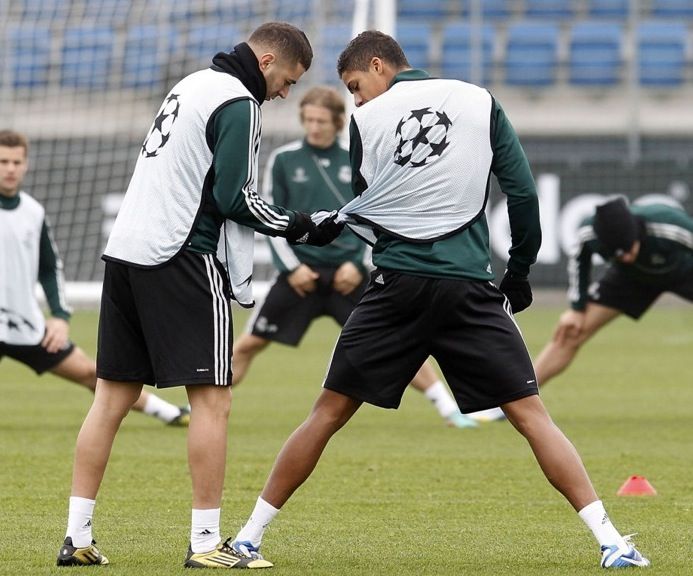 Meanwhile, Raphael Varane and Karim Benzema decided to steal the attention off Cristiano Ronaldo and his headlining "My Grand Return To Manchester" act this week by messing their training bibs up at Valdebebas this morning. Well, not really, but anything to divert attention works at this point. Maybe not though – statistically speaking, Ronaldo has been phenomenal with 15 goals in his last 13 Champions League appearances. He's the talking point for a reason!
If Madrid win and Ajax do not beat Dortmund in the same, then the Spanish champions will progress to the last 16. If they draw and Ajax lose, Madrid will also qualify. Either way, they're going through!
In another fascinating interview, QPR midfielder and former Real Madrid player, Esteban Granero, spoke up about Mourinho and how crazy things are at Real Madrid. Granero, of course, is speaking the truth. There is no football institution as intimidating as Real, although you could argue that Man United come close.
"At Real Madrid everything you do is multiplied by 10 or 100. Here, the press let you do your work; it's easier for players at QPR than it is at Real Madrid. Mourinho is intelligent – he knows when to get their attention and when to give attention to the players. He usually wants to take the attention when things are going bad and give it to the players when things are going well, which is good for the players; that's why the players have this respect for the manager.

"