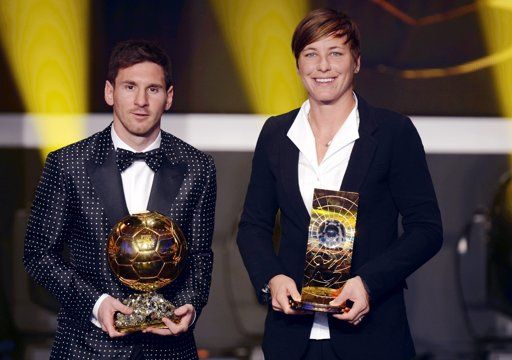 If you're still reeling from Lionel Messi's fashion faux pas at the Ballon d'Or last night, you're not alone! Whoever dressed the Argentinean for the awards show from leftover Christmas wrappers needs to be given his marching orders now.
It's a classic case of Brilliant footballer, but not so brilliant choice of bow-tie ("It isn't that bad, polka dots and bow-ties don't always scream "Pee Wee Herman in Da house!" said a stylist we know ; oh but it does!)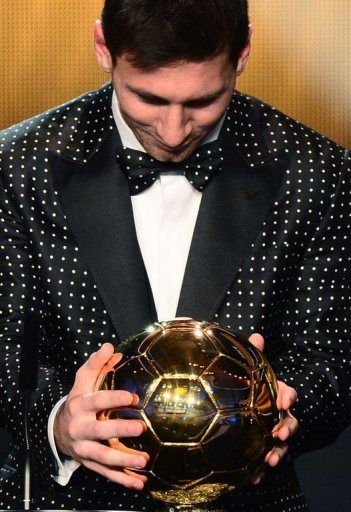 Predictably, Polka Messi picked up the Ballon d'Or for the fourth year in a row (and according to him, his mind "went blank" when he found out he was the winner) after polling 41.60% of the votes, ahead of Ronaldo (23.68%) and Iniesta (10.91%).
"Most importantly, winning any individual award is a total product of the team that you play for. I've never scored a goal without receiving a pass from my team-mates. Thanks to all the fans out there who continue to inspire me and the rest of the team to win as many games as we can." – Messi
Our pick was for Iniesta to win it, given his outstanding performances for Spain in 2012, although you can also argue that Ronaldo was the more deserving winner based on his work rate at Real Madrid and his leadership over the Portuguese national side alone.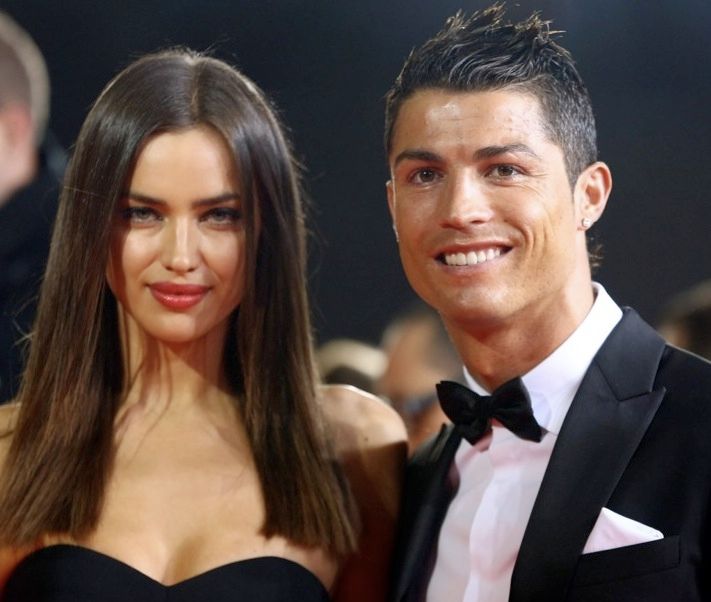 Speaking of Ronaldo, he arrived at Football's Oscar night in typical superstar style with his gorgeous fiancee, Russian model Irina Shayk, whom he also spent New Year's with. Naturally, they got their eyebrows waxed at the same salon!
For Gerard Pique, he was unable to take the heavily-pregnant Shakira with him as she was (presumably) resting at home. However, both Andres Iniesta and Xavi Hernandez flew in via the same flight and took their wives/girlfriends along for the ceremony.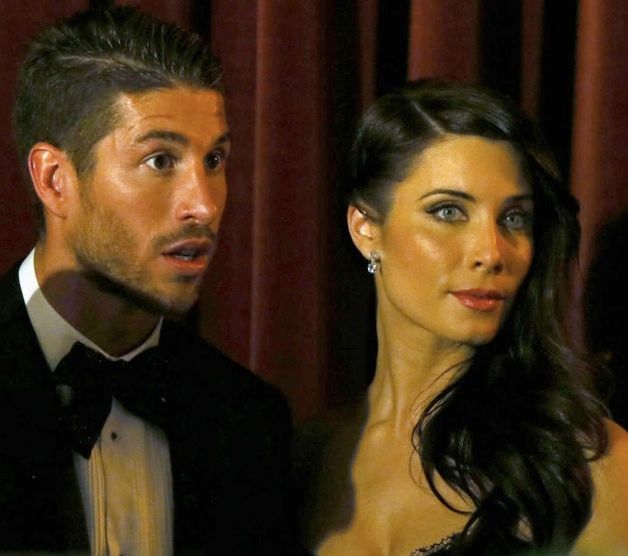 Ronaldo's teammate Sergio Ramos also arrived at the awards ceremony with Spanish TV personality Pilar Rubio, whom we were telling you about yesterday. The couple decided to make their relationship public by turning up at the event together, and this will certainly go down well with the Spanish papparazzi.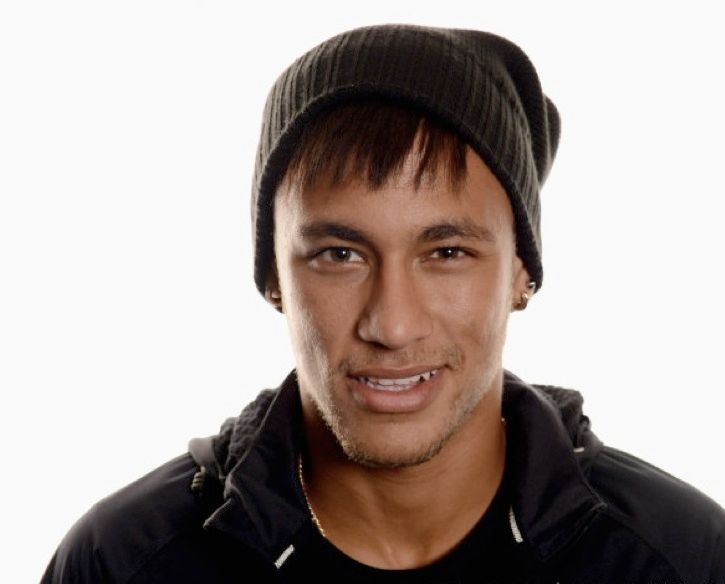 One other fun aspect of last night's ceremony were the 'Behind the Scenes' candids that players took away from their press conference duties.
Although Neymar didn't pick up the FIFA Puskas Award for best goal of 2012, (it went to Slovakian striker Miroslav Stoch, for his club Fenerbahçe), the Brazilian still posed for the candids! Here's a selection of photographs featuring the 20-year-old alongside Xavi, Pique, Ramos, Ronaldo and Falcao.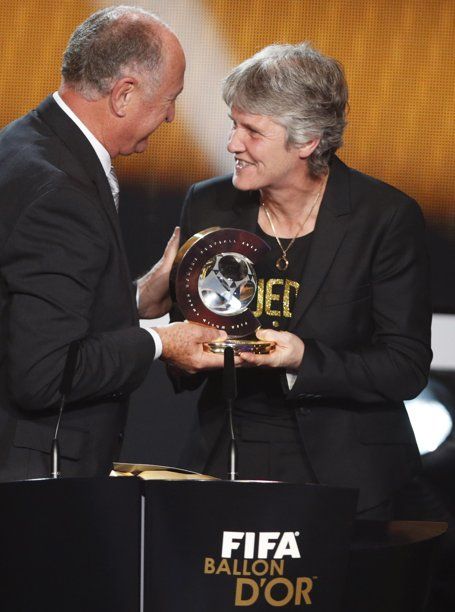 Predictably, Spain's Vicente del Bosque picked up the FIFA World Coach of the Year for Men's Football with 34.51% of the votes. José Mourinho came in second with 20.49% while Barcelona's former coach, Pep Guardiola, received 12.91%.
Meanwhile, Brazil national coach Luiz Felipe Scolari awarded Pia Sundhage with her deserving FIFA World Coach of the Year award for the Women's Football category. Former USA coach Sundhage amassed 28.59% of the votes for her contributions to the Olympic-gold winning squad and finished ahead of Norio Sasaki (23.83%), coach of the Japanese national team that won silver at the Olympics in London. France's eccentric team coach Bruno Bini came in third (9.02%).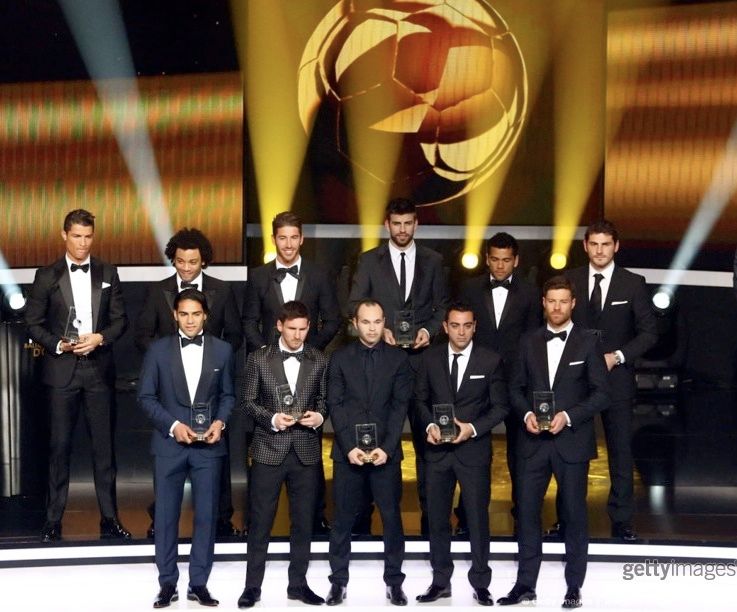 In addition, FIFPro, invited 50,000 professional players from all over the world to select their best team of 2012 to make up the FIFA FIFPro World XI. Are we looking at the closest thing to a dream team? Oh, por supesto!
Iker Casillas (Spain); Dani Alves (Brazil), Marcelo (Brazil), Gerard Piqué (Spain) and Sergio Ramos (Spain) in defence; Xabi Alonso (Spain), Andrés Iniesta (Spain) and Xavi Hernández (Spain) in midfield; and Cristiano Ronaldo (Portugal), Radamel Falcao (Colombia) and Lionel Messi (Argentina). 
Photos : Gettyimages & AFP