It's time for your Weekly Wednesday Gossip! This week, Man City's Kun Aguero is missing his son, Sara Carbonero goes 'behind the scenes' at the Ballon d'Or, Pato and Barbara Berlusconi snap a crazy candid… and our condolences to Coleen Rooney.
Following news of his divorce to his wife, Giannina, Man City ace Kun Aguero has given a rare interview about moving on and life without his son, Benjie, to Argentinean daily 'Ole'. Aguero has kept mum about the separation until very recently, when he was clearly feeling emotional about it.
"In recent months, I have been trying to adapt to a new life after my separation. It hasn't been easy because me and Giannina had some intense years together and we shared very strong experiences. During that time, we grew a lot as individuals and especially as a result of that love, we had Benjie, who is a blessing. That's what I find is most difficult – because Ben is in Buenos Aires and I, for logical issues, have to stay in Manchester. I try not to be affected because (you have to) try to be as professional as possible. I think it does not affect my athletic performance. But being away from a child is not easy. It is impossible not to miss Ben." –

Kun Aguero
Of course, separation is always difficult, but given the insensitivity of the paparazzi in Argentina, they have already linked Aguero to popular Argentinean cumbia singer Karina Tejeda (also known as 'Princess'), who apparently travelled to England to watch him play against Stoke City in their 3-0 win. However, Tejeda denied reports published in Argentinean media and said : "No, the truth is I am at my mum's place in Buenos Aires with my daughter. I did not (travel to Manchester!)"
Honestly now, un poco de privacidad, por favor?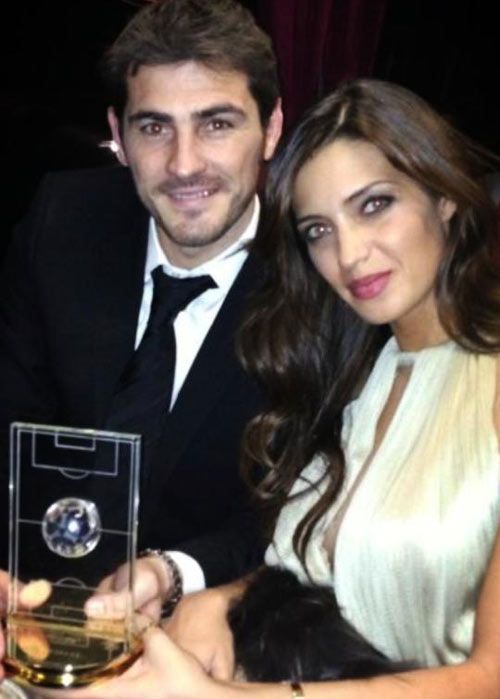 Iker Casillas and Sara Carbonero attended Monday night's Ballon d'Or in Zurich, but unlike Pilar Rubio and Irina Shayk, the journalist chose to keep a low-profile. And rightly so – the night belonged to the footballers!
Casillas was inducted into the FIFPro World XI, which honours the Best Players in 2012 (as voted by over 50,000 players from all around the world) and Sara was there to watch him as he picked up the award alongside teammate Ronaldo, Marcelo and the rest of the Cool Cats. Lovely!
In some tragic news, Rosie McLouglin , Coleen Rooney's younger sister has passed on after a hard battle with Rett syndrome, which affects the brain. Rosie and her family fought the disease for 14 years, but it ended up claiming her life last weekend at their home in Liverpool.
Coleen, who is pregnant with her second child, shared her pain through Twitter. "Thank you all for your words of affection. We are broken-hearted because we lost our angel, Rosie. It is impossible to describe our words of love," she said.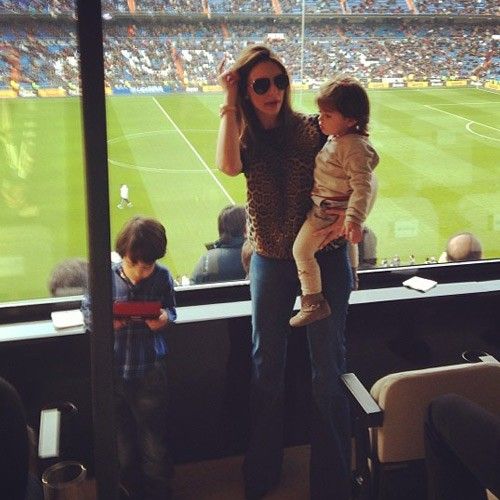 The 'Kakas' spent their New Year's in Madrid, and of course, Caroline Celico brought her children to watch their father's home game in the VIP area of the Bernabeu a.k.a Ronaldo's "hood".
After spending three seasons at the club, Kaka has been linked to a move away from Spain to Chelsea, as part of Roman Abramovich's obsession with the playmaker (if you've noticed, Abramovich has been chasing his signature for the past two seasons). However, the Brazilian has not shown signs of leaving Real Madrid, despite a reported bust-up with Mourinho and being a surplus to requirements there.
'I don't think that Kaka will go anywhere. He will stay. And as I've said all along, if he stays then it is good for us because he provides us with an extra option," said Mourinho last December.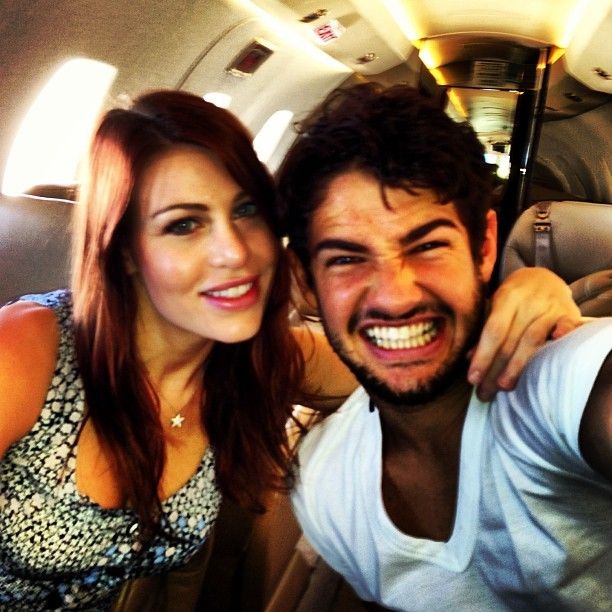 Here's a rare and crazy candid of Barbara Berlusconi and Brazilian striker Alexandre Pato on an airplane to Brazil! Of course, Pato who recently sealed his move to Corinthians, has packed all his boxes in Milan and moved them to Sao Paulo for a better chance at making Brazil's 2013 Confederations Cup squad.
Unfortunately for Barbara, who works with Milan's communications department, she'll have to contend with a long-distance relationship now… unless Silvio Berlusconi decides to buy a stake in Corinthians, which is actually a pretty good move!
Photos via : Instagram, Ole!