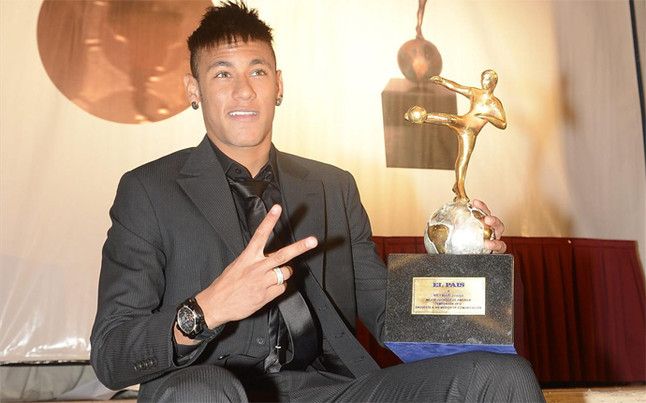 Brazilian boy wonder and Pagode Party king Neymar has picked up yet another title-  the prestigious "Rey del fútbol de América" or "King of South American Football" awarded by Uruguayan newspaper, El Pais. Ah, isso é legal!
Neymar flew to Montevideo to pick up his award last night and was presented with the prize – which essentially awards the Best Player of 2012 – after being chosen by 300 journalists from different media around the region. Corinthians' Peruvian striker, Paolo Guerrero, came in second place with 50 votes while PSG's Lucas Moura garnered 21 votes for his service to Sao Paulo in 2012.
The 20-year-old Santos striker has taken the unusual route of staying in Brazil instead of moving to a big club in Europe. Last night, a very polite Neymar repeated his desire to remain in the country for the time being "where (my) family and friends are." Of course, the Catalan sports papers later went on to publish Neymar's "desire to play with Messi." Do you see where this is going?
Naturally, Neymar also rubbed shoulders with Uruguayan football legend Alvaro Recoba (there's a funny story we once heard about a man who met Recoba's father, a taxi driver – apparently, this is a common story among most taxi drivers in Uruguay!)
And just so you know how much Neymar deserves this award, here are his Best Skills from 2012!