Ahead of this afternoon's Arsenal-Man City clash at the Emirates stadium, Arsene Wenger has made some telling statements about the role of money in football. Of course, he's referring to Man City's cash-over-pedigree approach to the game, which seemingly favours short term success over a longer term outlook. Ironically, City have never won a Premier League match at the Emirates stadium, so all the money in the world can't possibly buy you that record!
"There are different ways to be successful in football. Money helps, but it is not the only way. I believe that the names of a club are built up through consistency of their attitude and behaviours, clubs like Arsenal and Man United or even Man City, who are 100 years old or more, that's the consistency of the quality of their work that makes their name." – Arsene Wenger
Arsenal are looking for a win against City, and are banking on the fact that their influential midfielder, Yaya Toure, who went to the African Nations Cup, will not be around to create collateral damage. Unfortunately, Gervinho (who is also with the Ivory Coast NT) and Olivier Giroud have been ruled out of the match. This means they'll probably be fielding a three-tier attack with Podolski, Walcott and Alex-Oxlade Chamberlain at the front line. Tasty!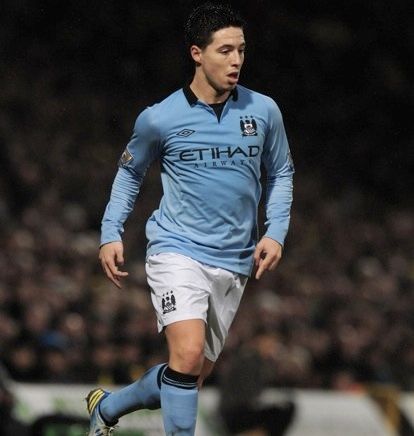 Meanwhile, Samir Nasri, the former Gunner nicknamed 'Judas' by Arsenal fans (fair enough) has given a rather sweet interview, where he lavished praise on his former boss, Wenger, for being a fatherly figure during his three-year tenure at the club. He has been ruled out of today's game and will serve out his one-match suspension.
'If I'm here today it's because of him. I'll never forget what he did for me. I owe him a lot. He gave me confidence not just as a player but as a man as well. That is why I really respect him and really like him because he cared about the men, not just about the players. For some managers they want you to be on the pitch and that is it. For him he wants to talk to you, to know a little more about you to give you the confidence, it was like a second love for me." – Nasri

Later on, Nasri added that he moved to Man City because he wanted titles and "to be a part of history" with the club. That's all quite lovely, really, Samir, except no one believes you when there's a £24 million transfer fee involved and there isn't much 'history' to be made in the first place…
Meanwhile, here's a photo of the 25-year-old enjoying a night out at a restaurant in London earlier this week!
 Photos : EFA, Samir Nasri Twitter