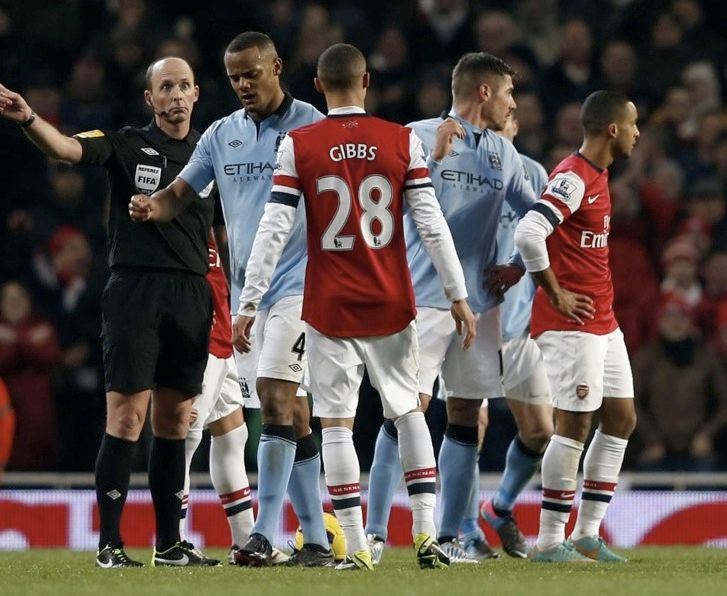 Manchester City went against the odds and picked up their first Premier League victory – after a staggering 38 years – at the Emirates stadium yesterday afternoon. To be fair, the "odds" seemed to be stacked against Arsenal's favour from the start after their French defender Koscielny was sent off after a rugby tackle on Edin Dzeko in the 9th minute. Or was it?
Ironically, there's no other team in the Premiership that seems to experience the wrath of the 'Domino Effect' more than Arsenal (not counting Stoke City's Jon Walters' two own goals and a missed penalty on Saturday). This is not to say that they've been victimised, because the nervous Arsenal of yesterday lacked the sharpness of a side gunning for a bloody top four spot anyway.
If only Wenger hadn't been forced to take out Alex-Oxlade Chamberlain for Per Mertesacker (inevitably), they could've stuck to their game-plan and exerted a tad bit of midfield domination, because Podolski and Cazorla were both helpless and – quite honestly – unwilling to drop back and help their teammates at certain points. What was that about?!
Funny enough, the only Gunner who stood out was Szczesny and his unbelievable save of Dzeko's penalty. Questions like "What on Earth was Kieron Gibbs doing?" and "Why were Tevez/Silva giving the luxury of passing the ball like they were in training?!" have been echoing throughout the day. Let's not forget, "Giroud, please be a model and not a striker!" is also a new one we've been hearing. What's that again – Calvin Klein called?
"We didn't start with enough confidence or authority. You have to dictate your personality, especially defensively. We could have done better at both goals. It's frustrating because the team showed great heart and desire after that, but we're a bit too nervous to play in a serene way at home and that is costing us." – Wenger
James Milner was made Man of the Match for his 21st minute goal and overall impressive display, but let's just say that Arsenal's defensive wall was virtually non-existent here. Meanwhile, Kompany's send-off for his tackle on Jack Wilshere can be said to be a "50/50″, with the club appealing his red card. Honestly now, that tackle is subjective! For the first time in the history of First times, no one actually bothered about Mario Balotelli's Blonde look! "Come si permette!
"We had some pressure (to win at Arsenal), but seven, eight or nine points doesn't change much. It is difficult to emulate last season but sometimes it can happen. I don't think we deserve to be seven points behind, but we are there and we need to play well. We have to keep strong if we want to have another chance."

– Mancini