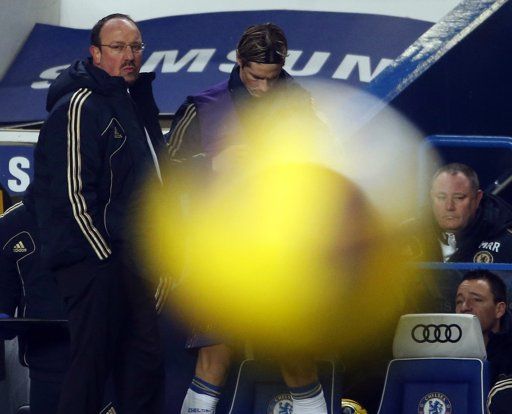 Demba Ba in, Torres out! That seems to be the order of things at Chelsea at the moment.
Add as if to rub salt in the Spaniard's wound, former Chelsea striker Tony Cascarino has lamented that the "signs" are clear that the former Liverpool striker will be leaving the club soon – possibly with Rafael Benitez, who is expected to see out his "caretaker" position until the end of the season.
"If you are playing for a big club you have to deliver because if you don't, you'll be going through the exit door. He is very close now. The fans singing Demba Ba's name is going to hurt Torres but you are going to get that if you don't play well and you miss chances," said Cascarino, who played for Chelsea between 1992 and 1994. You could argue that Cascarino himself isn't qualified to make statements like that based from his short time at Chelsea, but he's probably speaking from experience!

We get it – 50 million pounds is a lot of money and Torres hasn't justified his price tag, apart from brief glimpses of his brilliance during the Super Cup and Chelsea's cup tournaments.

Surely, fans should thank the lucky stars that he isn't kissing his wrist or scoring handballs week in and week out?!