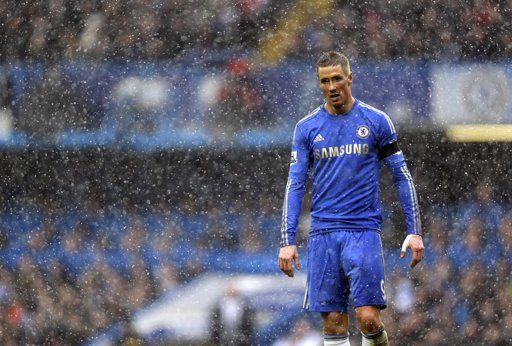 The snow at Stamford Bridge yesterday was terrible, although not nearly as terrible as Arsenal's performance in their 2-1 defeat to Chelsea itself.
The same could be said for Abou Diaby and Bacary Sagna and the other centerpiece of yesterday's disaster – Fernando Torres' haircut. Actually, we're pretty much 50/50 about this issue because as woeful as it may seem, it also takes you back fondly to his early days at Atletico Madrid, when Fernando was scoring faster than you could say : "Que?!!!"  When are those days coming back? Possibly, never!
Torres-aside, Chelsea's midfield are quite a force to be reckoned with and simply delightful to watch, when they gel together, that is! Juan Mata, Eden Hazard and Oscar are all quality players, but it was Ramires who deserved top honours for some crucial forward runs yesterday. If there's a player Luiz Felipe Scolari definitely needs to incorporate in his plans for the selecao this/next year, it's Ramires, whose "Portuglish" (English spoken with a heavy Portuguese accent) is improving!

One of our favourite post-match "psychological" analysis always tends to come from Monsieur Wenger himself, who reasoned that Arsenal lost because they started in the same way against Chelsea as they did against Man City last week. In short, they are still lacking confidence and influential players in midfield, because although they put on an admirable performance in the second half, Chelsea had already read their game (Juan Mata and Lampard's goals could have both been easily avoided) before they could equalise.
Clearly, Arsenal will be looking to buy some players while they still have time (9 more days, fellas!) A finisher-type and proper defensive replacement for Alex Song would be good, although now that Theo Walcott has signed a new £90,000 contract with the club, you'd also expect a better show from him in the first half.
"We started the same as against Man City, we didn't go for it and didn't defend well. When you start 2-0 down in the big games it is very difficult. Chelsea played well but we gave them too much room and didn't defend tight enough. We had a physical problem to get going. There is a psychological ingredient in there for sure as well because in the last two games we didn't really go for it. On top of that we were a bit unlucky because I felt it was a free-kick for the first goal and the second wasn't a penalty. The referee could have given a yellow card to Ramires (for diving)." – Wenger