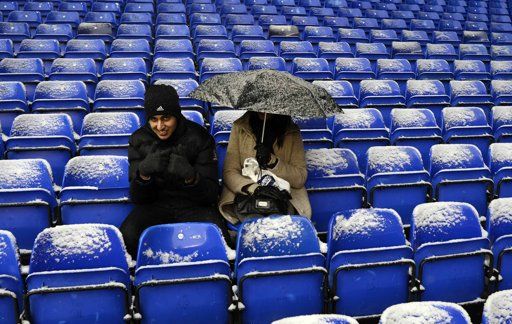 England has been hit by a snow and icy conditions in recent weeks with temperatures struggling to rise above freezing. Rejoice, all ye' faithfuls living in the summer countries!
Due to the weather and unfavourable pitch conditions, several football fixtures in League One and Two over the weekend had to be postponed. However, the epic fans seen above sat out the freezing conditions and eagerly waited through the "pitch inspection" by officials before the green light was given to the Tottenham-United kick-off. What troopers! Chelsea and Arsenal, Sunday's other crunch-time showdown, nearly suffered a similar fate, but went on as planned. If you are looking for a site where to bet on your favourite team in Soccer, you can place your bet at Top Bet.
Manchester United, on the other hand, flew to Doha to escape the harsh winters in favour of warm-weather training. According to The Daily Mail, Robin van Persie and several of his team-mates wore "matching pairs of Bugs Bunny pyjamas" on the plane from Manchester to Doha! You can bet that De Gea wasn't in on the joke….