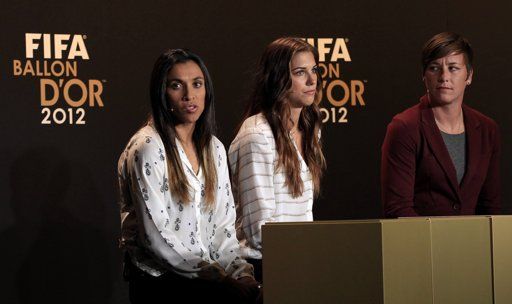 It's Friday – our Women's Football Day! This week, read on as the women's football elite trio of Abby Wambach, Alex Morgan and Marta dish out valuable and inspiring life advice to young women as part of the FIFA 'Live Your Goals' campaign. Vamos, chicas!
"Any young women out there that want to live their goals, I would personally tell them to challenge themselves and to do something that scares them every single day. Don't let anybody tell you that you can't do something. Make choices and empower yourself to do whatever it is you love to do." – Abby Wambach, USA captain


"There are fewer opportunities compared to the men's game. We have a responsibility as female professional athletes to create that passion in those little girls and to show them that those dreams can come true. I was that little girl once and I looked up to Mia Hamm and Kristine Lilly and I dreamed of playing on the team they played on one day. And here I am." – Alex Morgan, USA forward

"I'm really happy if I can somehow be a role model for girls who look to become professional footballers. My main advice would be for people to work hard and never give up when they have a dream, regardless of how difficult it might seem. You have to follow your goals and never miss the opportunities that life presents to you." - Marta, Brazil striker/legend!
The venue for this year's UEFA Women's Champions League Final has been announced – and it's none other than Stamford Bridge! The event makes its return to London after two years when Fulham FC's Craven Cottage hosted the final in 2011. The match kicks off at 19.30 UK time (20.30CET) and honestly, if you're in the city, you should attend this one – the tickets are available from Chelsea's ticketing shop at £10!
Ron Gourlay, Chelsea's friendly chief executive said: "Having witnessed the final in Munich last year, when Lyon won it  for the second year in a row in front of over 50,000 fans, it was quite an event.  It's great to have it here at Stamford Bridge, it's a fantastic showcase for us and women's football and it's a real highlight for the game in the UK."