There's an absurd story going around today that Atletico Madrid and Chelsea have an arrangement in place to send Fernando Torres packing in exchange for Radamel "El Tigre" Falcao (aka "Craaaaaaack!" if you ask the Spanish pub fans) at the end of the season.
It makes a great deal of sense, but it also screams "Cruel!! / Bárbaro" because the Colombian, ironically, has a ­£46million release clause in his contract which is almost the price of Torres' valuation in itself. This means Abramovich will be expected to pay for Falcao's valuation fee and buy-out clause (which will definitely top £80 mil in total at least) while they see out a previously highly-rated £50 million problem flop. But that's the way football works now and according to Spanish sources, Atletico Madrid are apparently "thrilled" to welcome back their old boy, Fernando. But really, with all due respect to Atletico, wouldn't that spell the end of his career?
As they say, anything is possible, and if Yossi Benayoun is speaking the truth – that Torres has been poorly managed at Chelsea – he'll probably be out of Stamford Bridge by the end of the season.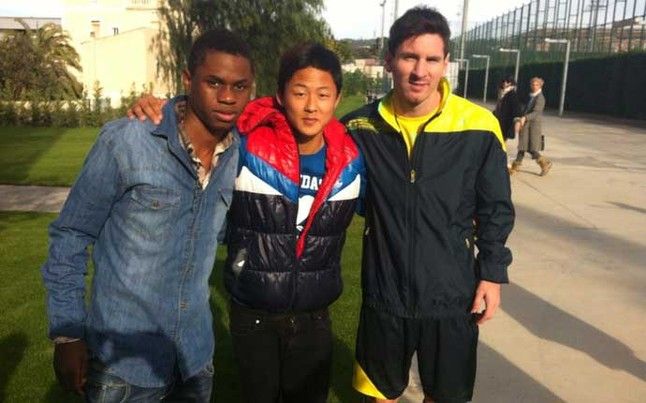 Barcelona and FIFA are in a little bit of a kerfuffle now, after the world football governing body decided that Seung Woo Lee, a Korean Barca B player dubbed as the 'next Messi' (according to his followers… honestly!) will not be allow to play in further games for the club. Why? Simply because FIFA believes he is underage and "International transfers of players are only permitted when the player reaches the age of 18″. Oh come on, can everybody learn from Ryo Miyaichi's case?! Let the kid play, no one stopped Wayne Rooney from scoring that goal at 16!
According to Catalan daily 'Sport', Woo Lee has been touted as one of the "most promising (upcoming) players in the Barcelona B team." It is also unusual, the club notes, that FIFA would directly 'intervene' in the process and they believe it is the work of one of Woo Lee's "rivals" (aka haters). "There is a belief that it some other club reported this situation to the international football governing body," the source said.
Woo Lee son, did you remember to pay your dues before you left?!