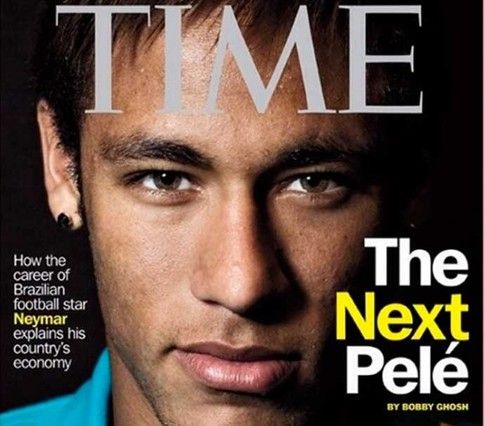 Only a handful of football's most fascinating and complex characters – like Lionel Messi and Mario Balotelli – have made it to the cover of TIME magazine. Alas, the time has come for Neymar to assume his position as "O príncipe do Brasil" (to the sound of a million sighs in England and Northern Brazil!) with his very own. Interestingly, 21-year-old Neymar is the first Brazilian athlete to be on a TIME cover, which is a huge honour, given the fact that the previous eight to be featured on the front page were Brazil's former presidents and diplomats such as Júlio Prestes and Getúlio Vargas.
The Santos striker has been ostensibly declared as the 'next' Pele on the front cover, which his biggest critics may find to be outrageous – or even blasphemous! Then again, this is the same bloke whose image has been controversially projected on the Holy Cross much to the chagrin of the country's top bishops, and he courts controversy everywhere he goes.
The article seeks to explain how the flourishing Brazilian economy is helping the country keep the football star from moving to Europe – and probably Barcelona next year. Pele remained the One Club Man with Santos throughout his career which lasted from 1956 to 1974 – a record he is extremely proud of – despite getting numerous offers from Real Madrid, Barcelona and "the big names in Europe" (in Pele speak).
It's important to note that Neymar is a great example of the 21st century footballer and the dynamics of the game today cannot be compared to that of the 1960s. Pele is a Brazilian product and he frequently revels in his ambassadorial role, waxing lyrical about his past accomplishments (three World Cups, which he won with the help of some of the brightest talents in Brazilian football history), sometimes a little embarrassingly.
Neymar does his job – but he never sought to be a role model or a self-righteous athlete and he never makes apologies for who he is. There are times when he gets impatient ("Football is getting boring," he said after last weekend's red card) but that is part of being a 21-year-old growing up in a world where money, women, vices are in abundance. There are going to be club presidents knocking on his door and endorsement deals with blank cheques written in his name. It's a slippery slope, but football is now dictated by corporate greed and we're pretty sure Pele didn't get to experience the effects of being hounded 24/7 as the country expects you to deliver a World Cup.
So really, there is no comparing Pele to Neymar – they are completely different personalities. Neymar is Neymar and for the good of football, he should stay that way. When career is over, will he be telling everyone that he was "the greatest ever"? We doubt it.