Apply To Be A World Cup Fútbolita!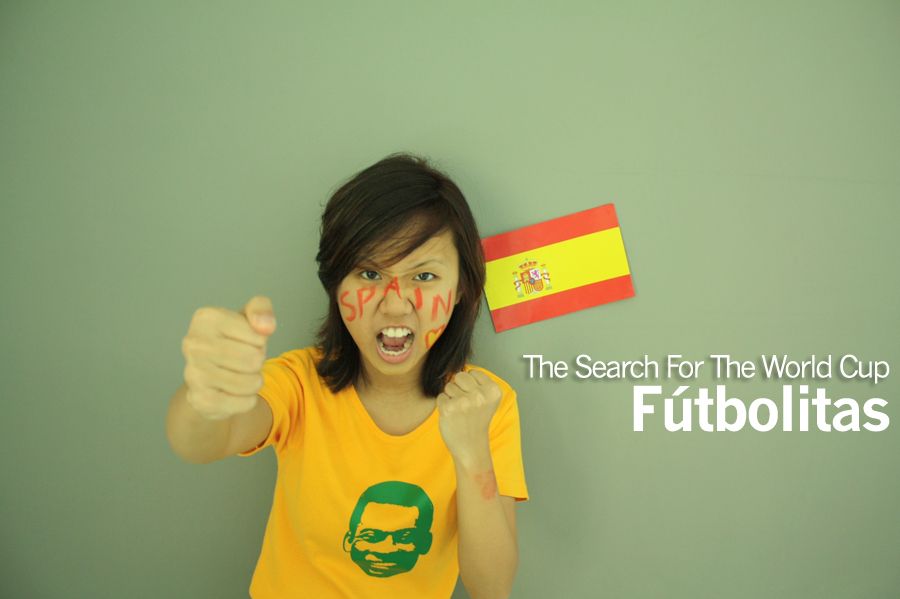 ¡Hurra! Futbolita.com celebrates the World Cup by bringing together the major nations in the form of the game's most feisty and fervent futbolitas. Partnering Cult Zeros in the UK, the Official World Cup Fútbolitas will share their views on their respective home countries from player line-ups to exciting tales off the pitch. They will be the voice of their respective countries, and share their thoughts, passions and excitement with the WORLD before, after and during the tournament.
Think that could be you? Don't be shy like Bojan! Apply via this form below now! Send all questions, ideas and collaborations to pregunta @ futbolita dot com. DEADLINE : SUNDAY, APRIL 4 2010.

COUNTRIES SEEKING FUTBOLITAS!
Spain
Italy
Mexico
USA
South Africa
France,
Argentina
Japan
Germany
The Netherlands
Portugal.
IF YOU'RE SELECTED…
Our partners and kind sponsors Cult Zeros in the UK will send you an exclusive Futbolita shirt featuring your favourite player "Andy Warhol style" (as seen in the first photo) before the World Cup. Snap a photo of yourself wearing the awesome tee (as well as with any of your nation's colors/merchandise) and it will be on each of your posts.
A profile interview on each WCF to introduce you to the readers!
Your own @futbolita.com e-mail address to keep, login details, badges, access to the facebook fan page, links and of course, the TITLE of your country's Official Futbolita!
Posts on the main pages of Futbolita.com, appearances in a national newspaper and more!
An opportunity to let yourself be read and heard on an international platform visited by tens of thousands every week! And if you're muy bueno, you could become a regular contributor or we could introduce you to … er, Rafael da Silva? Eheh!
[You will also receive a mini-contract stating your commitment to Futbolita throughout the duration of the World Cup and that you will not endorse your services to any other website or commercial entity during that period]

DO I QUALIFY?
Contrary to popular belief, males are also welcome to apply as Futbolitos. Seriously.

Ideally, you should be a citizen living in the country you're writing about. You must know your country inside out (and understand the national language, of course) so if you're still wondering if those are scarlet or red tones on your nation's flag, it's best to look for Guti. However, if you're like Deco, feel free to apply because we love Brazilian-born Portuguese folks as much as Spanish-born Croatians!

This also applies: If you know your country and its football as well as a citizen there (i.e. because you speak the language, know the culture, used to date Greaseano's neighbour etc)

You should be able to contribute decent posts, (spell check, por favor!), take photos from the action around you (yes, especially if your neighbour is throwing Maradona's poster into the fire), form tangible opinions on football, scream like it's 1981, basically live the game, know how to have a good laugh, speak to fellow fans and be PASSIONATE! Alternatively, if you want to make a podcast or a video, you have our full support and a tub of Ben and Jerry's waiting (as always!!)

Commitment is very important so please do not apply if you're unable to commit during the World Cup period (damn, everyone will be on leave! What will you do?)
---
APPLY HERE
If you have trouble submitting the form, please copy all details below and e-mail them to PREGUNTA @ FUTBOLITA DOT COM. You can also send you questions to that e-mail and you will receive a confirmation e-mail within 1-2 days of your application! Thank you chicas y chicos!